1.Introduction of giant dinosaur statue
The giant dinosaur statue is an amazing artwork. This stainless steel large geometric dinosaur sculpture is impressive. It is
tall and powerful, standing on the ground, vividly demonstrating the majesty and power of dinosaurs. The entire sculpture
adopts abstract geometric forms, transforming the image of dinosaurs into a combination of lines and blocks, presenting a
unique modern artistic style. The surface of the sculpture is smooth and flat, reflecting the surrounding environment, making
it shine and shine in the sunlight.
This stainless steel Outdoor Dinosaur Statue is not only a work of art, but also a part of the urban landscape. It can be placed
in parks, squares, or other open spaces, becoming a landmark landscape of the city, bringing artistic enjoyment and enjoyment
to citizens and tourists. At the same time, it also symbolizes the mystery and fantasy of the ancient dinosaur era, opening a
window to the ancient world for people.
The advantage of making large geometric dinosaur sculptures made of stainless steel lies in its material characteristics. Stainless
steel is a weather resistant, corrosion-resistant, and wear-resistant metal material suitable for outdoor environments, with excellent
durability and stability. This allows the sculpture to maintain its beauty for a long time and is not susceptible to fading or damage
from the external environment.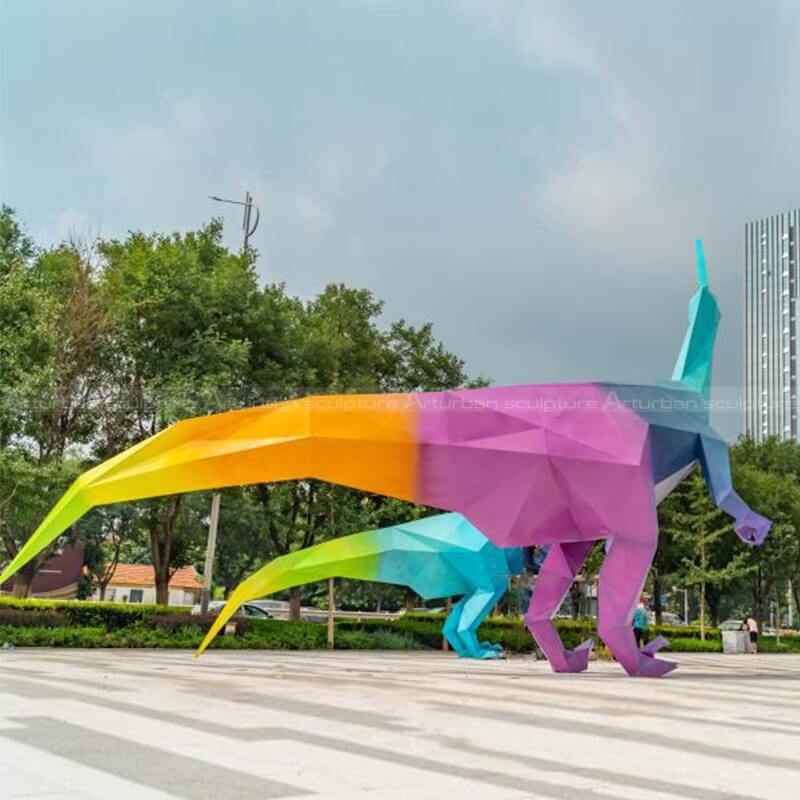 2. Production Process of giant dinosaur statue
Send us your requirements now, we will reply to your email within 24 hours.