1.Introduction of disillusion sculpture
This is the disillusion sculpture. Many people who have first seen it in 'Disillusion' cannot believe that the net on the character is carved
out of marble. The artist spent 7 years creating this work, which is carved from a single piece of marble, and each rope needs to be carefully
carved and polished. This work is located in the San Severo Chapel in the historical center of Naples, Italy.
The Nude Man Sculpture is a masterpiece by the sculptor Francesco Guerrero from Geno, commissioned by Prince Raymond to be dedicated
to the prince's father, Duke Anthony. After his wife's early death, Duke Anthony experienced a changing and chaotic life and entrusted his
son to the care of his grandfather Paolo. After traveling throughout Europe, the Duke began to repent of his mistakes in his youth in his later
years and returned to Naples, where he spent the final years of his life in peace like a monk.
This disillusion sculpture depicts a man who has just emerged from his sin, which can be demonstrated through a fishing net crafted by a
sculptor with all his skills. The twinkling light on the forehead of the winged elf represents human wisdom. The little elf is helping the man
rescue from the complex net, and the little elf's finger is pointing at the ball at his feet, representing the passion of the world. An open Bible
is placed next to the sphere, with solemn religious texts engraved on it. The shallow relief on the base of the sculpture depicts the scene where
Jesus restored light to the blind, further enhancing the religious significance of the sculpture itself.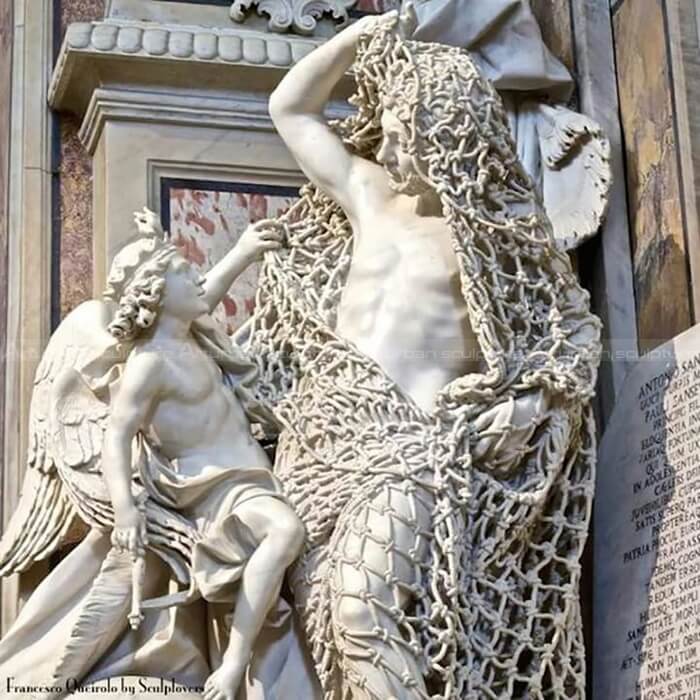 2.Production Process of disillusion sculpture
| | |
| --- | --- |
| Step 1: Design   Communication: |  You supply us with several photographs with dimensions. |
|  Step 2: Project Consultation: |  Our team will make a production plan, according to your design, budget, delivery   time,  or any other service. Our final aim is to supply high quality and cost-saving   sculpture efficiently. |
|  Step 3: Confirm Mold | We will make 1:1 clay or 3D mold,when finished clay mold,i will take photos for   your reference. The clay mold can modify any details till you're satisfied with it. |
|  Step 4: Carving and Polish |  We will carving with natural marble according to clay mold. Then polished |
|  Step 5: Package |  Strong wooden crate with waterproof and shockproof foam inside |
Send us your requirements now, we will reply to your email within 24 hours