1.Introduction of dancing lady sculpture
This is the bronze dancing lady sculpture called"Miranda". It is a masterpiece with elegance and artistic charm. The dancer in the sculpture
has a graceful posture, as if dancing gracefully. Her posture is light and dynamic, her arms spread out, and her dance moves naturally and
smoothly, as if capturing a moment of beauty.
The appearance of the sculpture is filled with exquisite details. From the facial expressions of the dancer to the wrinkles of the dance skirt,
every detail has been carefully carved to create a realistic and artistic image. The dancer's demeanor presented in the sculpture showcases
the beauty of dance and the flow of the body, reminiscent of the charm of music and stage.
This Bronze Woman Sculpture plays an important role in decoration. Firstly, as a work of art, it can attract the audience's attention and evoke
emotional resonance with dance and art. Secondly, as an interior decoration, it can add elegance and dynamism to the space, making the
environment more lively and interesting.
In terms of production advantages, bronze material brings durability and longevity to the sculpture. It has good plasticity, allowing sculpture
creators to carve detailed lines and textures, presenting a more vivid and realistic effect. The texture and tone of bronze material can present
different aesthetic sensations under different lighting conditions, bringing visual enjoyment to viewers.
In summary, the bronze sculpture "Miranda" showcases the essence of dance and art through its appearance, decorative function, and production
advantages. It integrates dynamism, elegance, and art, bringing visual and emotional pleasure to the audience. Such sculptures are not only a form
of decoration, but also an expression of the pursuit of beauty and art.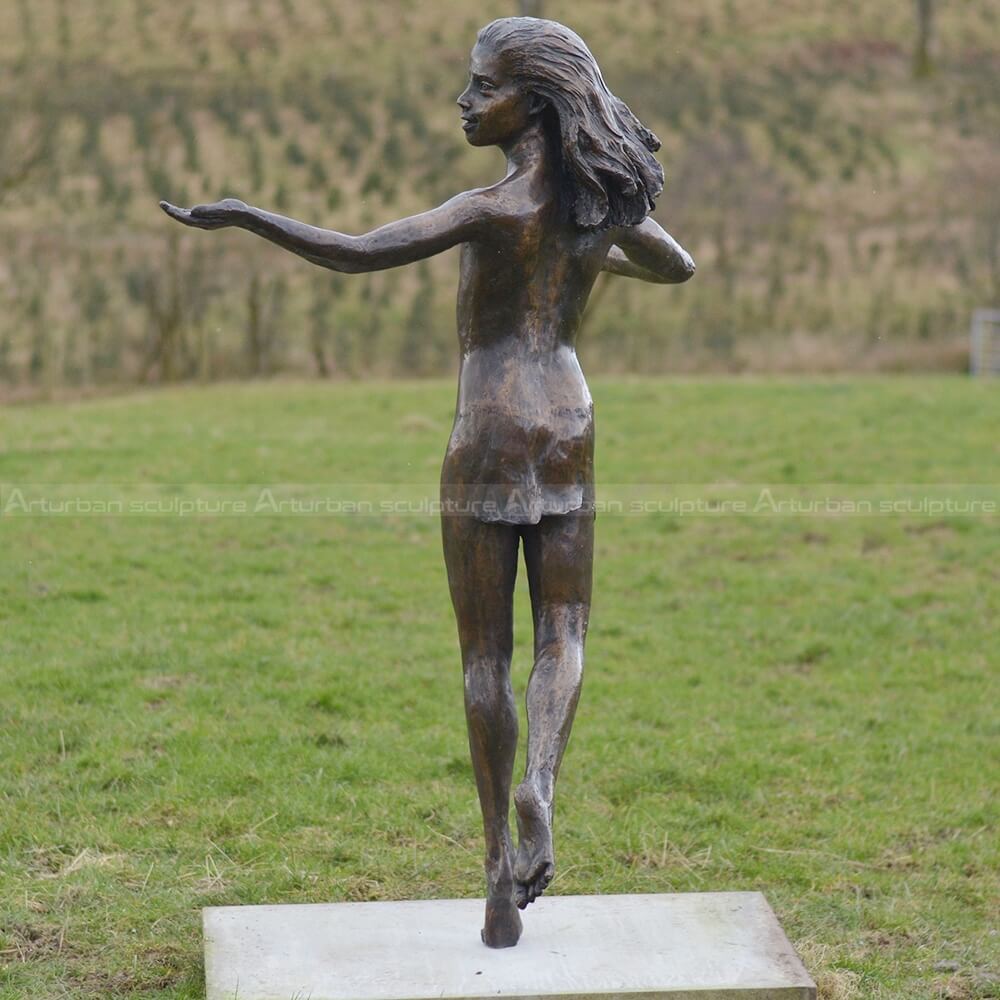 2.Production Process of dancing lady sculpture
1. Confirming the details drawing/ 3D mold/ Pictures with clients.
2. Making clay mold according to drawing/ client's photos/ 3D mold.
3. Lost-Wax casting bronze/brass statues.
4. Welding and Chasing.
5. Patina and wax surfance, take all different views pictures/ videos, show to clients.
6. Packing into wooden cases after clients are satisfied with sculptures.
Send us your requirements now, we will reply to your email within 24 hours