1.Introduction of bunny garden statue
This is a very fashionable stainless steel bunny garden statue. It is a beautiful woman with rabbit ears. The slender figure looks very fashionable and beautiful wearing sexy clothes. The feet are wearing beautiful high heels and very personalized headphones on head, which is very fashionable and temperament. The unique statue of this sculpture is loved by young people now. If the fashionable shape is placed in bars, hip-hop dance halls and other fashion trend halls, it will be loved by people and feel the unique artistic atmosphere.
This bunny garden statue  is made of high-quality 304 stainless steel. After our sculptors' skilled forging, grinding, polishing and other links, our sculpture shape is vivid. The details are exquisite, the texture is clear, very perfect, the surface is smooth, and the sculpture shape is natural. Our high-quality sculpture materials can keep our sculptures beautiful after being outdoors for many years. At the same time, the smooth surface is also more conducive to our cleaning of sculptures. We also have many stainless steel sculptures with different shapes, which are very beautiful and have different aesthetic feelings. If you like stainless steel sculptures, you can contact us. We support the production of small family sculptures, garden sculptures and urban sculptures. Let the beautiful sculpture beautify your environment.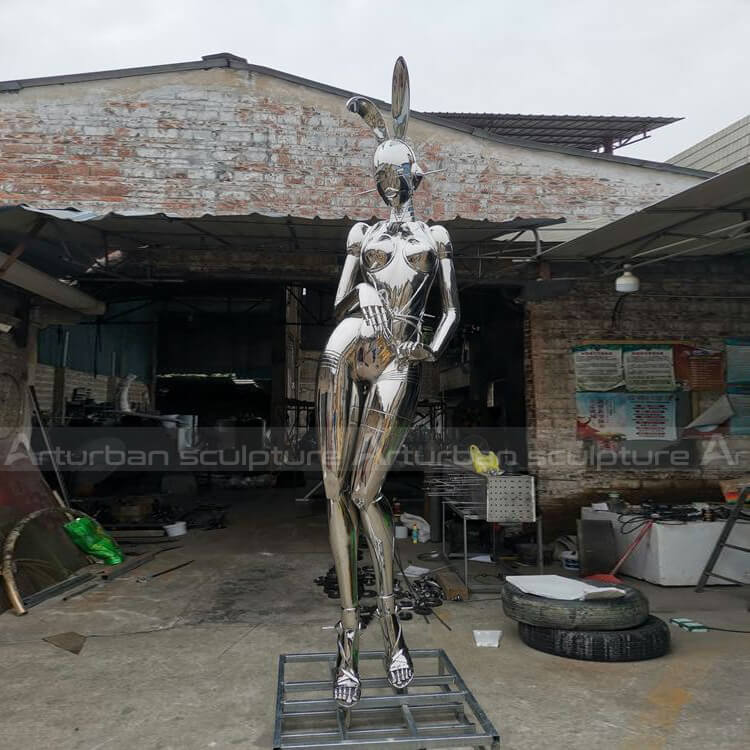 2. Production Proccess of bunny garden statue
Send us your requirements now, we will reply to your email within 24 hours