1.Introduction of bull and bear bronze statue
This is the bull and bear bronze statue at the Frankfurt Stock Exchange in Germany. The image of a bull and a bear confrontation with a bull's head slightly higher than the bear's head. The bull and the bear look at each other as if they will attack each other at any time. The horns of bull up forward represent the rising trend of the stock market and also expresses the expectation of wealth. The bear statue with its paw down indicates that the market is falling, and it also represents that the changes of the stock market are often not controlled by people's will. This is the first time in history that bull and bear sculptures to show the competition between bull and bear markets in the financial market. Although the two are not in fierce struggle, they are facing each other vigilantly.
This bull and bear statue vividly shows the competitive relationship between bull and bears, but restricts each other. This sculpture is made of high-quality bronze material. The image and action of bear and bull are displayed incisively and vividly.  It is a meaningful sculpture in various securities trading places.  As a courtyard, garden decoration is also a very distinctive decorative effect. If you need such exquisite outdoor garden sculpture, you can always contact us for more details.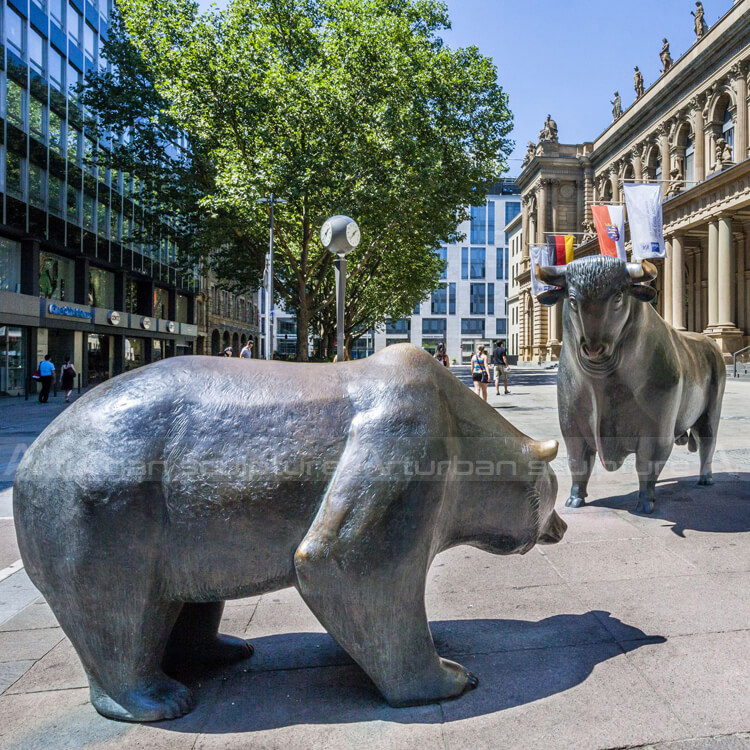 2.Production Process of bull and bear bronze statue
1. Confirming the details drawing/ 3D mold/ Pictures with clients.
2. Making clay mold according to drawing/ client's photos/ 3D mold.
3. Lost-Wax casting bronze/brass statues.
4. Welding and Chasing.
5. Patina and wax surface, take all different views pictures/ videos, show to clients.
6. Packing into wooden cases after clients are satisfied with sculptures.
Send us your requirements now, we will reply to your email within 24 hours