1. Introduction of bronze fairy statue
Bronze fairy statue is high quality. Fairy is a very beautiful existence in the fairy tale world. It is a kind of human like legendary creature with long and beautiful ears, which originates from the ancient legends of northern Europe. In the definition of general fantasy literature works, elves are generally slightly smaller than human beings, with slender skeleton and fair skin. They all have sharp ears and all love to live in the forest. They have long bodies. Both men and women are extremely beautiful, elegant, sharp eyed, and good at arrow technique. It has a life span of hundreds or even thousands of years. Although it is slightly slim in physique, its reaction speed is almost unmatched.
This fairy sculpture shows him sitting in a bucket, wearing pointed boots on his feet, holding a frog in his hand, laughing loudly and looking very happy. This sculpture is made by the traditional wax losing method. It vividly depicts the shapes and actions of the elves. The color of bronze and copper green makes it full of mystery. This sculpture is placed in the garden. The garden is very interesting. It seems that it belongs to the elves there. We also have many interesting garden sculptures, each of which is very delicate and beautiful, adding charm to your garden. If you are looking for high-quality bronze sculptures, you can contact us for more details.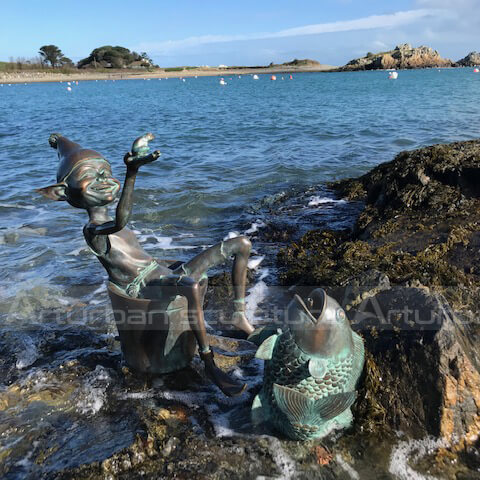 2. Production Process of bronze fairy statue
| | |
| --- | --- |
| Step1 Design   Communication: |  You supply us with several photographs with dimensions. |
|  Step 2: Project Consultation: |  Our team will make a production plan, according to your design, budget,   delivery time,  or any other service. Our final aim is to supply high quality and   cost-saving sculpture efficiently. |
|  Step 3: Confirm Mold |  We will make 1:1 clay or 3D mold,when finished clay mold,i will take photos   for your reference, the clay mold can modify any details till you're satisfied   with it |
|  Step 4: Casting |  We will use advanced lost wax casting technology to cast bronze or brass |
|  Step 5: Repair, welding &Chasing |  We will repair the hole of statue, then welding and chasing, which is the key   step to make fine high quality statue. |
|  Step 6: Patina and wax surface |  We will paint the color as the image the customer sent, then make wax   surface. when finished statue, also i will take photos for your reference,after   you're satisfied with all, i will arrange packing and shipment |
|  Step 7: Package |  Strong wooden crate with waterproof and shockproof foam inside |
Send us your requirements now, we will reply to your email within 24 hours