1.Introduction of bronze fairy garden ornaments
This bronze fairy garden ornaments is a beautiful and intoxicating artwork. In this sculpture, a charming fairy sits on a rock, spreading
her wings behind her, like a mysterious elf. The image of a fairy is intoxicating, with long hair draped over her shoulders and delicate
wings gently spreading, as if ready to fly away at any time.
The fairy gazed at a bowl formed by an open flower bud, frozen forever in the sculpture for an instant. The fairy seems to be listening
to the sounds of nature. The details of the sculpture are lifelike, and the fairy's face is full of tenderness and mystery. The texture of the
rocks and the clothing of the fairies showcase exquisite craftsmanship. The entire scene seems to be an intoxicating dream, immersing
the viewer in it, experiencing the wonders of nature and the beauty of life.
Garden Fairy Statues are ideal outdoor decorations, suitable for placement in gardens or courtyards. These exquisite sculptures can
create a fairyland like atmosphere between lush plants and flowers, adding mystery and romance to your outdoor space. Whether sitting
by the flower bed, leaning against trees, or standing on the grass, fairy sculptures can create a poetic and picturesque atmosphere, making
your garden an intoxicating place that is both peaceful and relaxing, and full of artistic charm.
The advantage of sculpture production lies in its exquisite craftsmanship and material selection. These sculptures are usually made of
high-quality materials, and the producers use advanced carving techniques and experienced craftsmen to meticulously create each piece,
ensuring its delicate and realistic appearance. These sculptures are usually treated with waterproofing and anti-corrosion to maintain
their aesthetics and durability in outdoor environments. Therefore, fairy sculpture not only has artistic value, but also has excellent
durability and adaptability.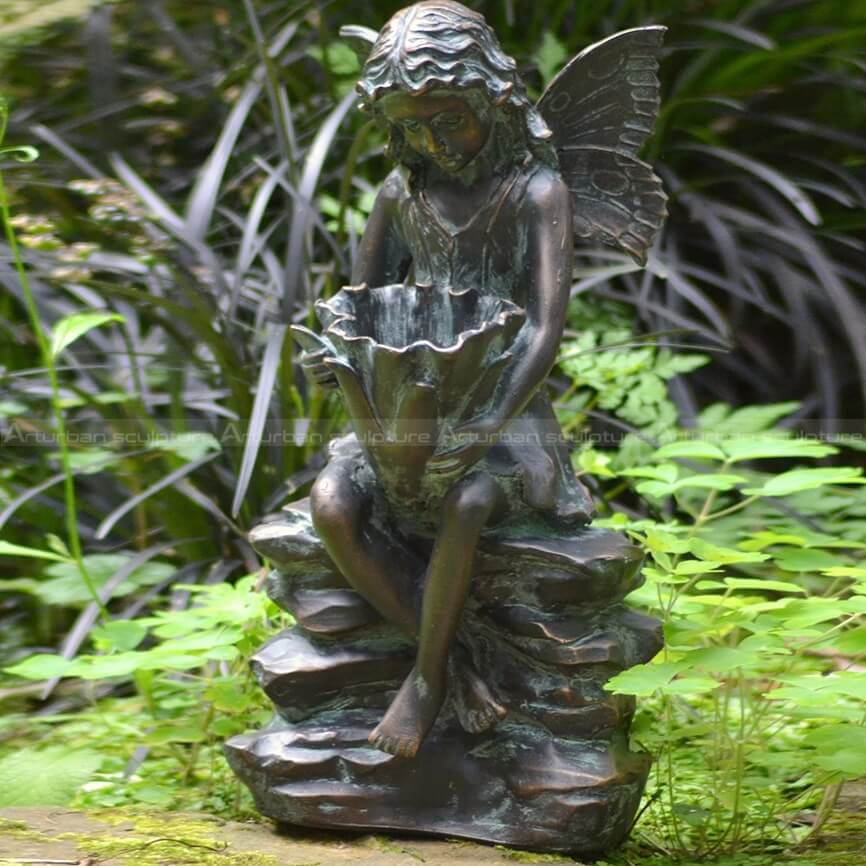 2.Production Process of bronze fairy garden ornaments
1. Confirming the details drawing/ 3D mold/ Pictures with clients.
2. Making clay mold according to drawing/ client's photos/ 3D mold.
3. Lost-Wax casting bronze/brass statues.
4. Welding and Chasing.
5. Patina and wax surface, take all different views pictures/ videos, show to clients.
6. Packing into wooden cases after clients are satisfied with sculptures.
Send us your requirements now, we will reply to your email within 24 hours