1.Introduction of bronze equestrian statue
Bronze equestrian statue is life size. This is a very classic sculpture of a horse trainer. The wild horse raises front hoof and neighs. The horse trainer has been thrown to the ground by the wild horse, and still holds the reins tightly in his hands, showing each other's stubbornness, representing that neither side will yield, and also vividly showing the arduous process of horse training. This sculpture is very suitable for gardens and park decoration. The placement of such a horse training sculpture in the garden makes the surrounding environment seem to have a stubborn character.
This lifelike horse trainer sculpture is using the traditional wax lost method, and captures the most rebellious image of the horse at the moment of jumping. Our foundry masters have created high-quality horse training sculptures with their rich sculpture experience. Whether it is a charming wild horse image or its unique personality, our masters can deal with these details very realistically. If you like these exquisite horse training sculptures, we have a variety of horse training sculpture forms for you to choose from.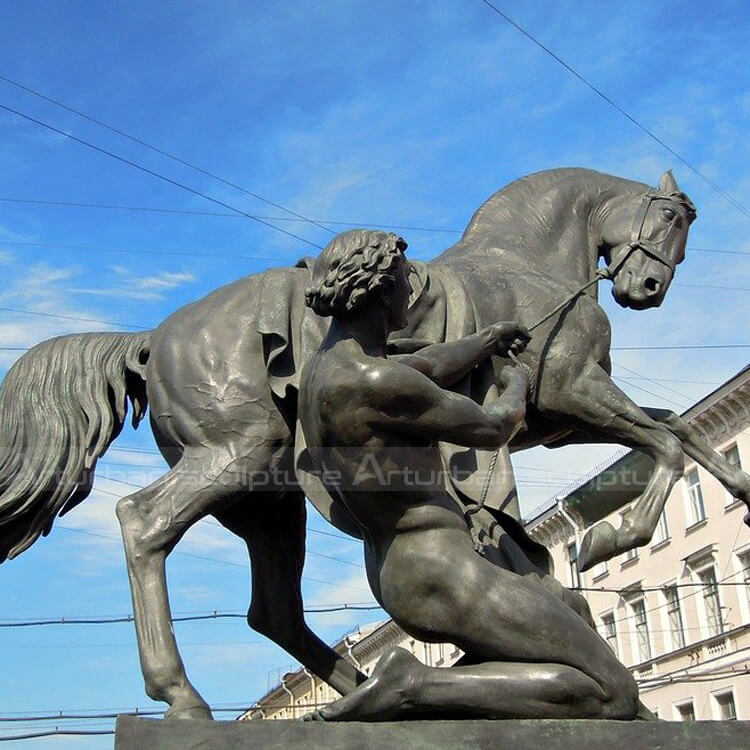 2.Production Process of bronze equestrian statue
1. Confirming the details drawing/ 3D mold/ Pictures with clients.
2. Making clay mold according to drawing/ client's photos/ 3D mold.
3. Lost-Wax casting bronze/brass statues.
4. Welding and Chasing.
5. Patina and wax surfance, take all different views pictures/ videos, show to clients.
6. Packing into wooden cases after clients are satisfied with sculptures.
Send us your requirements now, we will reply to your email within 24 hours