1.Introduction of bronze duck sculpture
The bronze duck sculpture presents an extremely cute scene where four lifelike ducks quietly rest on a broken branch that happens to cross
the water surface. This scene seems to freeze time, showcasing a moment of rest for ducks in nature.
The appearance of the sculpture is exceptionally realistic, with each duck's feathers, eyes, beak, and claws meticulously carved out. The lifelike
posture and expression make them appear as if they are ready to leap up at any time. Viewers can clearly see the details of each feather, and
this exquisite craftsmanship endows the sculpture with vitality and vitality.
This sculpture also has an outstanding decorative effect. It can be placed next to a lake or stream in the garden, or on the lawn in the courtyard.
Whether used as a garden decoration or as an interior decoration, it can add a vibrant atmosphere to the environment. It is not only a decoration,
but also an expression of life's charm, bringing people a sense of tranquility and joy.
In terms of production, this bronze duck sculpture is made of high-quality materials, ensuring its durability and stability. Exquisite craftsmanship
enables every detail to be perfectly presented, making the entire sculpture more aesthetically valuable. In addition, it has undergone special
treatment to make it waterproof, sunscreen, and other properties, which can maintain its appearance in outdoor environments for a long time.
Overall, sculpture is not only a work of art, but also a joyful decoration for the soul. Through vivid scenes and exquisite craftsmanship, it brings
people a unique understanding of nature and life.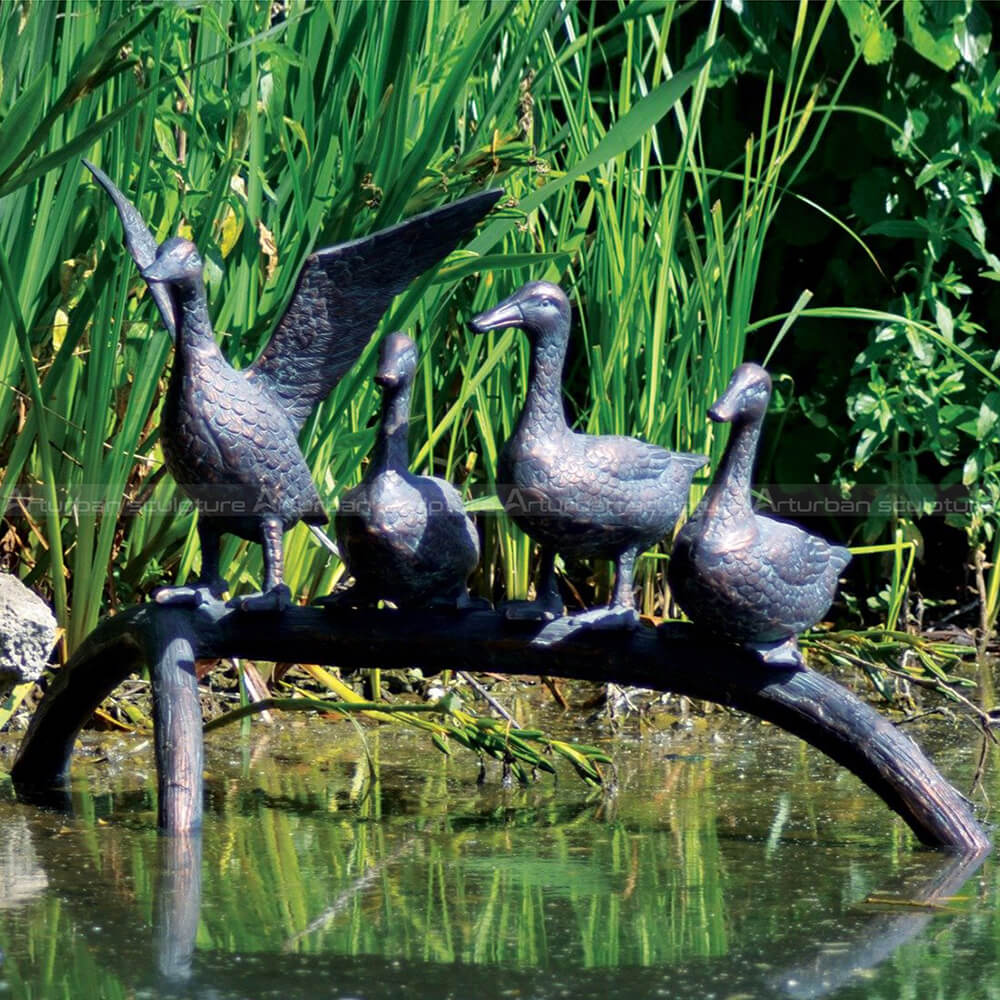 2.Production Process of bronze duck sculpture
1. Confirming the details drawing/ 3D mold/ Pictures with clients.
2. Making clay mold according to drawing/ client's photos/ 3D mold.
3. Lost-Wax casting bronze/brass statues.
4. Welding and Chasing.
5. Patina and wax surfance, take all different views pictures/ videos, show to clients.
6. Packing into wooden cases after clients satisfied with sculptures.
Send us your requirements now, we will reply to your email within 24 hours