1.Introduction of boy with shovel statue
This is a boy with shovel statue. The boy stood there, holding a shovel in his right hand and a drawing
in his left, as if thinking about what to do next. He wore simple clothes and shoes and looked very confident
and focused. The craftsmanship of the sculpture is very meticulous, with every detail meticulously carved
out, from the boy's facial expressions to the details on the drawings, demonstrating the sculptor's intentions
and skills.
Bronze statue of boy can bring a vivid atmosphere and artistic sense to indoor or outdoor spaces. It shows
the image of children working hard and hard, and is also an expression of children's labor education. Whether
placed in a park, school, museum, art gallery, or private residence, sculpture can play a role in embellishing
space and enhancing decorative effects.
There are many advantages in making bronze children's sculptures. Firstly, bronze is a hard and durable material
that can ensure the long-term preservation of sculptures. Secondly, bronze can be easily made intovarious shapes,
allowing sculptors to more flexibly express the details of their works. Finally, bronze children's sculptures can also
be made in different sizes and weights to accommodate different venues and collection needs.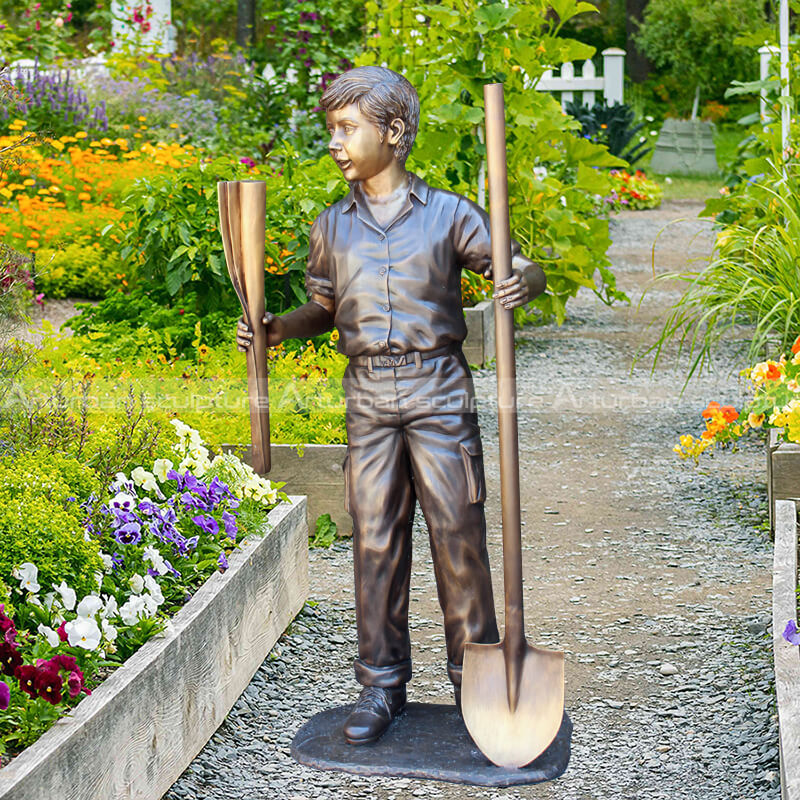 2.Production process of boy with shovel statue
1. Confirming the details drawing/ 3D mold/ Pictures with clients.
2. Making clay mold according to drawing/ photos/ 3D mold.
3. Lost-Wax casting bronze/brass statues.
4. Welding and Chasing.
5. Patina and wax surface, take all different views pictures/ videos, show to clients.
6. Packing into wooden cases after clients satisfied with the works.
Send us your requirements now, we will reply to your email within 24 hours