1.Introduction of boy on turtle sculpture
Boy on turtle sculpture is two children and a turtle. It shows that two children find a very large turtle crawling slowly on the grass. One child sits on the turtle and the other pushes behind. It seems that they dislike the turtle's slow walking, he can help it walking faster. However, there was no effect. The little boy above was so anxious that he planned to go down and help his little friend push it together. This large garden turtle sculpture vividly depicts the image of two children playing with turtles and also shows the playful and naughty boy image. If placed in the garden, the park will be an interesting picture to add joy and interest to people.
We have more than 20 years of experience in bronze sculpture production. Using the traditional wax loss method to make bronze statues can not only preserve the original image and details, but also make the surface smoother, and the actions and expressions more lifelike and vivid. We can clearly see the actions of children, the shape of turtles, and the texture on turtle shells. With the chemical coloring method, the bronze colored sculptures have the artistic charm of antiquity, and can keep the color for a long time and have corrosion resistance. We also have many bronze children sculptures in different forms, which show the happy time of childhood. If you are interested in children's sculpture, please feel free to contact us for more details.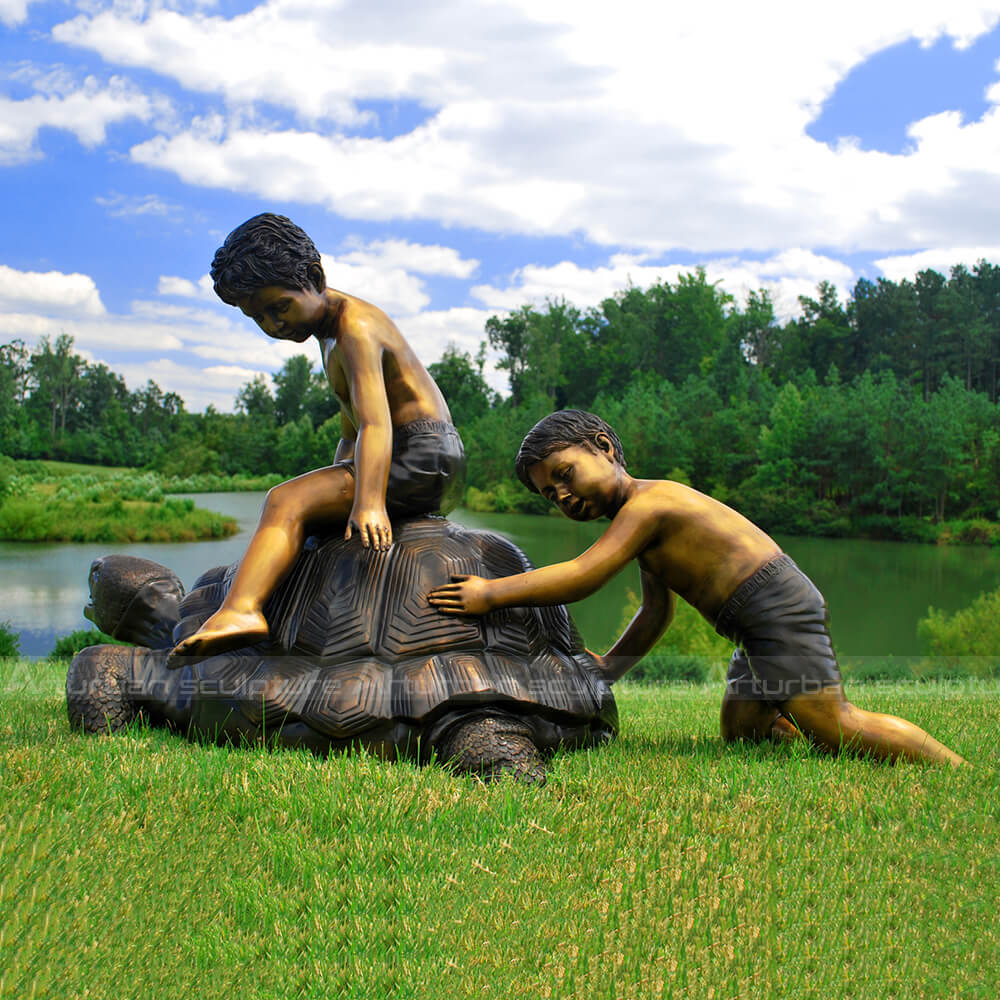 2.Production process of boy on turtle sculpture
1. Confirming the details drawing/ 3D mold/ Pictures with clients.
2. Making clay mold according to drawing/ client's photos/ 3D mold.
3. Lost-Wax casting bronze/brass statues.
4. Welding and Chasing.
5. Patina and wax surface, take all different views pictures/ videos, show to clients.
6. Packing into wooden cases after clients satisfied with sculptures.
Send us your requirements now, we will reply to your email within 24 hours