1.Introduction of large garden turtle
This is a large garden turtle. Its lifelike shape is impressive and will attract the attention of every one. This sculpture has a delicate shell made of yellow and brown. It looks very hard. It seems to tell any fierce animal that its shell is very hard, and no animal can do anything about it. The turtle slowly marched forward and did not know when it would be home. The bronze green head and limbs of this sculpture are clearly and visible, showing a unique shape. As a lawn, garden decoration will be a great sculpture.
This blue bronze turtle statue is made by the traditional wax losing method. The fine details and texture of the sculpture are clearly showing through the high-quality technology. Our sculptures are made of high-quality bronze materials. They are cold and heat resistant and very tough. They can be placed outdoors for decades to maintain their delicate appearance. As time goes by, their surface will have a layer of oxidation. This is a normal phenomenon. As long as they are cleaned once a year or two, they will still be very beautiful. If you are looking for high-quality bronze sculptures, you can always contact us for more details.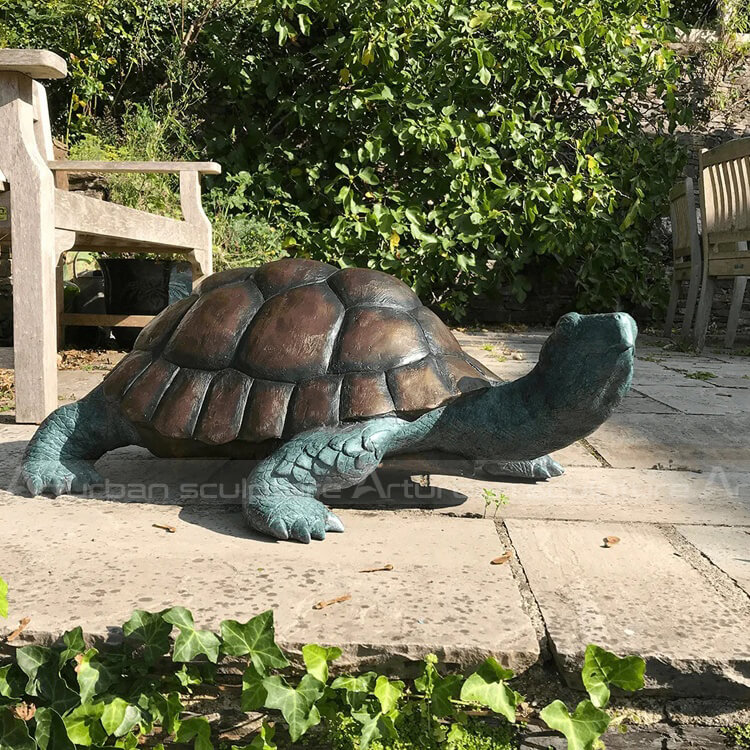 2.Production Proccess of large garden turtle
1. Confirming the details drawing/ 3D mold/ Pictures with clients.
2. Making clay mold according to drawing/ client's photos/ 3D mold.
3. Lost-Wax casting bronze/brass statues.
4. Welding and Chasing.
5. Patina and wax surface, take all different views pictures/ videos, show to clients.
6. Packing into wooden cases after clients satisfied with sculptures.
Send us your requirements now, we will reply to your email within 24 hours