1.Introduction of boy and girl on bench garden statue
This boy and girl on bench garden statue is a vibrant and educational artwork. In the sculpture, a boy and a girl sit together, focusing
on reading the book in their hands. The boy was holding a book with a smile on his face and his gaze focused on reading. While the girl
sat quietly next to him, also reading seriously. Their expressions were filled with curiosity and curiosity, as if they were deeply attracted
by the world in the book.
The appearance of this sculpture is lifelike, capturing the moment when children are focused on learning. Their natural posture shows
unparalleled concentration and excitement. The message conveyed by sculpture is very clear, which is the power of reading and the
importance of knowledge. This scene encourages people to cultivate good reading habits and stimulate their enthusiasm for learning.
In addition to its educational significance, this sculpture also played a good role in decoration. It can be placed in public places such
as school libraries, public libraries, parks, or squares, providing a peaceful learning environment for people. The positive energy conveyed
by sculptures can also stimulate positive emotions among people around them, creating a harmonious and peaceful atmosphere.
In terms of production, this boy and girl reading garden statue is usually made of durable bronze material to ensure its stability and
durability. Sculptors usually spend a lot of time and energy on every detail, striving to make the sculpture more realistic and artistic.
Overall, the sculpture of reading children on this bench is not only a beautiful artwork, but also a reverence for knowledge and education.
It conveys the importance of learning to people through vivid images, encouraging everyone to continuously explore and advance in
the ocean of knowledge.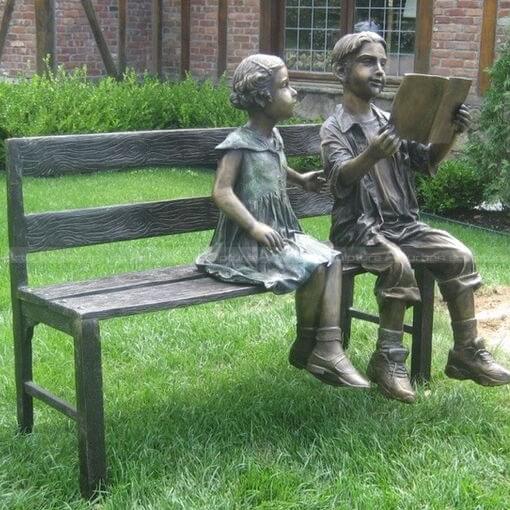 2.Production process of boy and girl on bench garden statue
1. Confirming the details drawing/ 3D mold/ Pictures with clients.
2. Making clay mold according to drawing/ photos/ 3D mold.
3. Lost-Wax casting bronze/brass statues.
4. Welding and Chasing.
5. Patina and wax surface, take all different views pictures/ videos, show to clients.
6. Packing into wooden cases after clients satisfied with the works.
Send us your requirements now, we will reply to your email within 24 hours