1.Introduction of Beethoven head sculpture
Beethoven head sculpture is very populare among people.Beethoven has made great contributions to music and is known as one of the greatest musicians. Therefore, Beethoven statue is common in school campuses, especially in music colleges. Beethoven statue is one of the indispensable world celebrity sculptures. Beethoven wrote 9 Symphonies, 36 Piano Sonatas, 10 Violin Sonatas, 16 string quartets, 1 opera and 2 mass. These works have made great innovations in musical form, harmony and texture, and have a far-reaching impact on the development of music.
From Beethoven head sculpture we can see that he is wearing a tuxedo with fluffy hair and piercing eyes as if inspiration will be in his mind at any time.We have a professional team that can make sculptures with various material such as bronze, marble and others.The size can be done as request as well so that you can display it in any occasion. If you need a bust sculpture of a famous person such as President Lincoln Statue or others, you can contact us for more detailed sculpture information.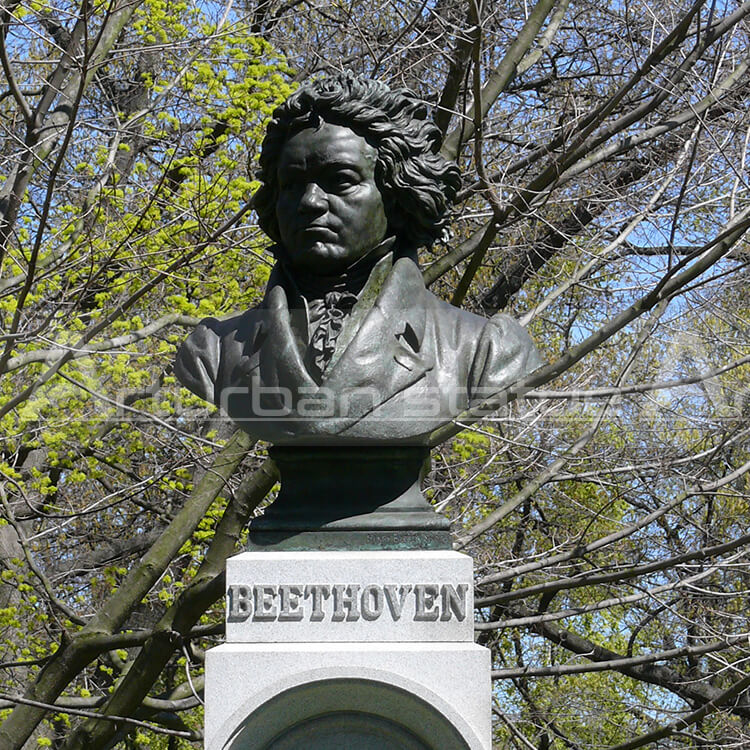 2.Beethoven head sculptureProduction Proccess
1. Confirming the details drawing/ 3D mold/ Pictures with clients.
2. Making clay mold according to drawing/ client's photos/ 3D mold.
3. Lost-Wax casting bronze/brass statues.
4. Welding and Chasing.
5. Patina and wax surfance, take all different views pictures/ videos, show to clients.
6. Packing into wooden cases after clients are satisfied with sculptures.
Send us your requirements now, we will reply to your email within 24 hours