1.Introduction of President Lincoln Statue
President Lincoln Statue is one of famous sculptures.Abraham Lincoln, (February 12, 1809-April 15, 1865), was the sixteenth president of the United States. He took office in March 1861 until he was assassinated in April 1865. Lincoln led the United States to experience the most tragic war in its history and the most serious moral, constitutional and political crisis-the Civil War. After this war, he maintained the integrity of the Federation, abolished slavery, freed all slaves, strengthened the power of the federal government, and promoted the modernization of the economy. Therefore, American academic circles and the public often regard Lincoln as one of the greatest presidents in American history.
This is President Lincoln Statue. As the former president of the United States, he promulgated the "Proclamation on the Emancipation of Negro Slaves", That made him won the respect of the people, held a lofty position in people's hearts, and welcomed by the whole world. President Lincoln Statue restores the appearance of President Lincoln. From his small and thin face can be seen that he is a fleshless man. Though his appearance is not very good, but he has a soul of saving the world. So he is a perfect divine existence in people's hearts. We also support to sculpt various bust sculptures of famous figures, it will highly restore the image of the character .Lincoln Memorial Statue is not only a tribute to him  but also a memory.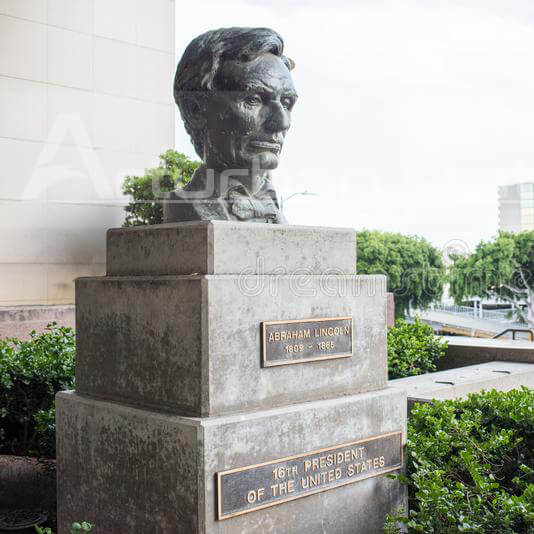 2.Production Proccess of President Lincoln Statue
1. Confirming the details drawing/ 3D mold/ Pictures with clients.
2. Making clay mold according to drawing/ client's photos/ 3D mold.
3. Lost-Wax casting bronze/brass statues.
4. Welding and Chasing.
5. Patina and wax surfance, take all different views pictures/ videos, show to clients.
6. Packing into wooden cases after clients are satisfied with sculptures.
Send us your requirements now, we will reply to your email within 24 hours