1.Introduction of bald eagle statue outdoor
This is a bald eagle statue outdoor falling on a branch. Its wings have not been retracted yet, showing the broad wings of an eagle. It gives people a feeling of domineering and open-minded. Therefore, most of the shapes of eagles are high and ambitious. The value of an eagle lies in its inner state. Therefore, Eagle carving skills are quite exquisite. Sculptors should not only consider their realistic modeling, but also consider the overall modeling design, which is a natural spiritual expression. Therefore, this sculpture is very powerful.
We have rich experience in sculpture on animal sculpture. It is not only lifelike in shape, but also like a real Eagle staying on a branch with its sharp mouth, claws and sharp eyes. The fine hair textures on the wings are clearly visible. The color of the surface is thick and natural, and its beautiful image makes you unable to move your eyes. If you need a beautiful and magnificent bald Eagle statue, you can contact us at any time, and we will formulate a detailed sculpture scheme for you.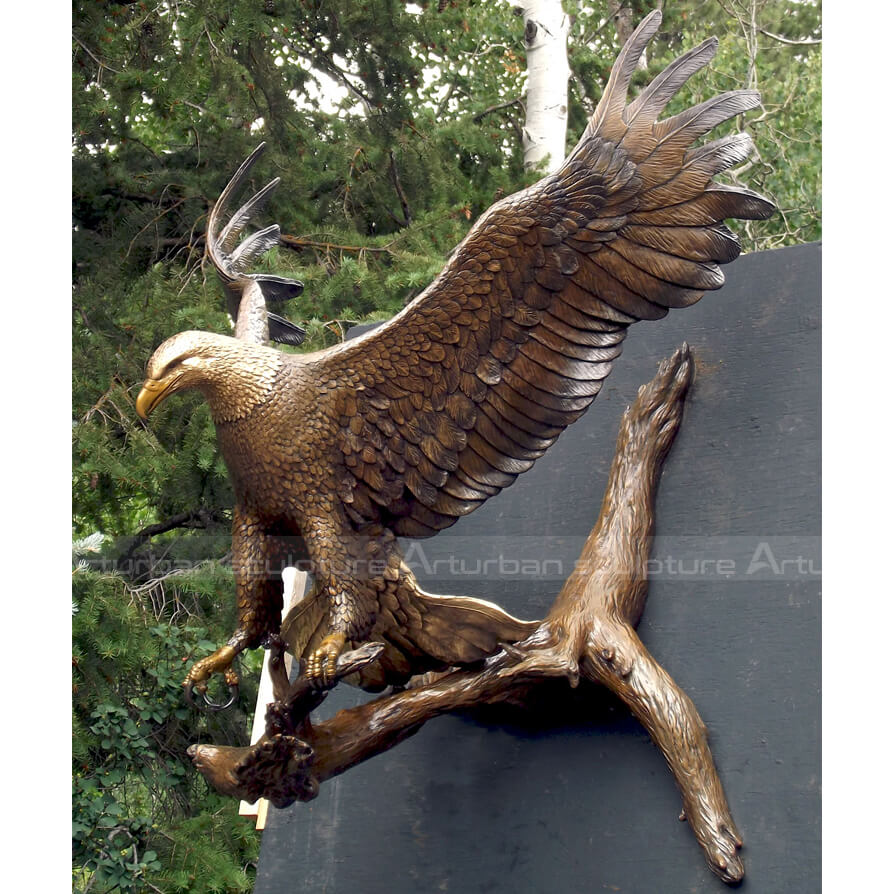 2.Production Proccess of bald eagle statue outdoor
1. Confirming the details drawing/ 3D mold/ Pictures with clients.
2. Making clay mold according to drawing/ client's photos/ 3D mold.
3. Lost-Wax casting bronze/brass statues.
4. Welding and Chasing.
5. Patina and wax surface, take all different views pictures/ videos, show to clients.
6. Packing into wooden cases after clients are satisfied with sculptures.
Send us your requirements now, we will reply to your email within 24 hours