1.Introduction of american bald eagle statue
This is a winged American bald eagle statue. It opens two broad wings, a sharp mouth and teeth, and is very fierce. Eagles have beautiful appearance, and are symbols of freedom, strength, courage and victory. It is an ideal decoration for schools, parks and other occasions. It will become the focus. And encourage students, employees and passerbys to have a positive attitude, work hard and provide positive energy.
This eagle statue is carefully made by our experienced sculptors. Through careful design and creation, they make the eagle natural and beautiful, realistic. Even the tiny veins on the feathers can be clearly seen. As a decoration for various outdoor occasions, this eagle sculpture is definitely a great art sculpture. If you like this eagle sculpture or other animal sculpture, you can always contact us for more details.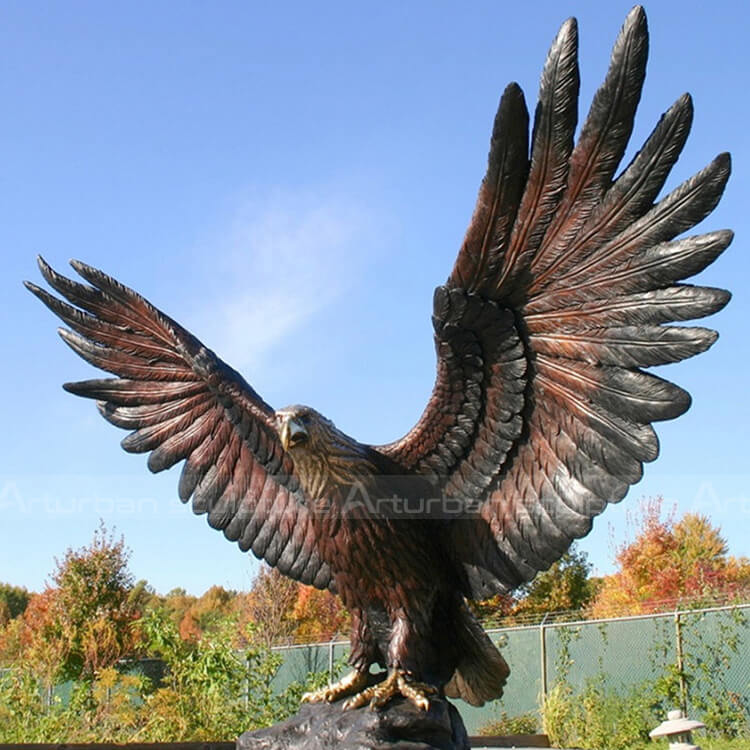 2.Production Proccess of american bald eagle statue
1. Confirming the details drawing/ 3D mold/ Pictures with clients.
2. Making clay mold according to drawing/ client's photos/ 3D mold.
3. Lost-Wax casting bronze/brass statues.
4. Welding and Chasing.
5. Patina and wax surface, take all different views pictures/ videos, show to clients.
6. Packing into wooden cases after clients are satisfied with sculptures.
Send us your requirements now, we will reply to your email within 24 hours