1.Introduction of atlas globe statue
This atlas globe statue depicts Atlas in Greek mythology, who is bearing a heavy burden. His muscle lines are clearly visible,
presenting a strong and powerful aesthetic. The appearance of the sculpture gives a sense of power and solemnity, showing the
majestic image of Atlas as the guardian of the sky.
This Atlas Holding The World Sculpture has a unique decorative effect. It can be used as an indoor or outdoor artwork, bringing
a sense of nobility and solemnity to the space. Bronze Atlas holds the image of the world, which means to bear heavy responsibilities
and challenges. Therefore, it is often used to symbolize courage, determination and indomitable spirit, and inject profound connotation
into the space.
In terms of production, bronze material adds classical and noble qualities to the sculpture. Bronze has a long history in the field of art.
Its durability and plasticity enable sculpture to finely express Atlas's muscle texture and expression. In addition, the texture and color
of bronze also add a lot of color to the sculpture, giving the work a unique luster and texture.
To sum up, bronze Atlas has become a striking art treasure with its magnificent appearance, profound symbolic significance and
manufacturing advantages. Both visually and spiritually, this sculpture carries a noble flavor, inspiring people to face challenges and
move forward bravely.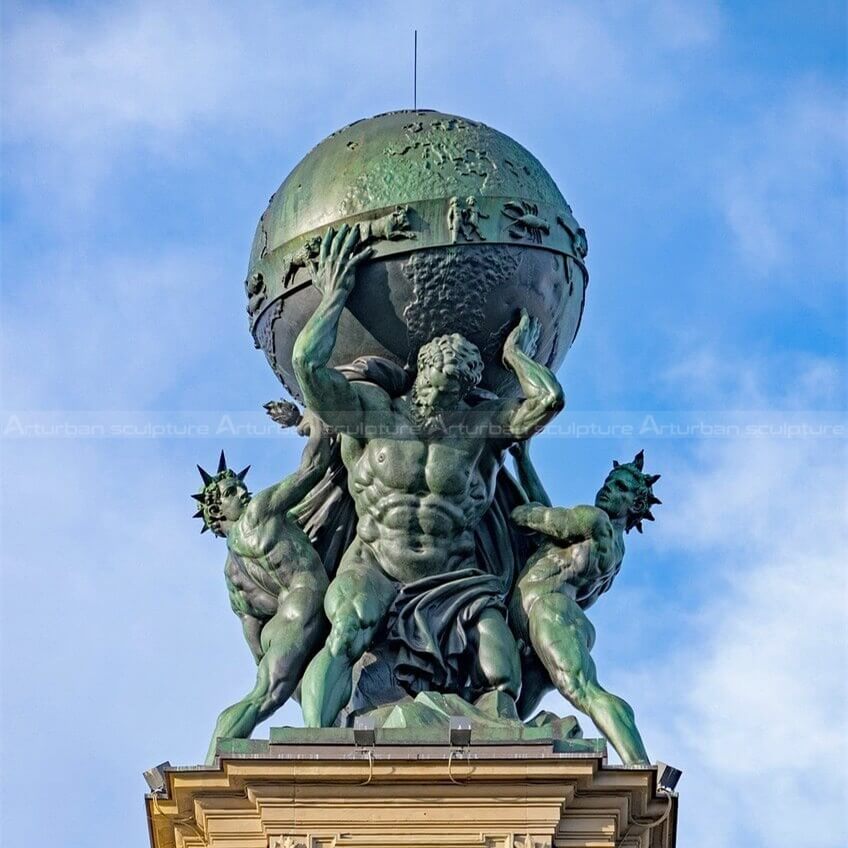 2. Production process of atlas globe statue
| | |
| --- | --- |
| Step1 Design   Communication: |  You supply us with several pictures with size. |
|  Step 2: Project Consultation: | Our team will make a production plan, according to your design, budget,   delivery time,  or any other service. Our final aim is to supply high quality and   cost-saving sculpture efficiently. |
|  Step 3: Confirm Mold |  We will make 1:1 clay or 3D mold,when finished clay mold,i will take photos   for your reference. The clay mold can modify any details till you're satisfied with it |
|  Step 4: Casting |  We will use advanced lost wax casting technology to cast bronze or brass |
|  Step 5: Repair, welding &Chasing |  We will repair the hole of statue, then welding and chasing, which is the key   step to make fine high quality statue. |
|  Step 6: Patina and wax surface | We will paint the color as the image the customer sent, then make wax surface. When finished statue, also i will take photos for your reference. After you satisfied with all, i will arrange packing and shipment |
|  Step 7: Package |  Strong wooden crate with waterproof and shockproof foam inside |
Send us your requirements now, we will reply to your email within 24 hours