1.Introduction of woman statue water fountain
This woman statue water fountain is a very creative sculpture of a naked girl. The naked girl sat gracefully on the edge of the fountain pool, one leg on the base, the other leg on the edge of the pool and put a soft blanket on her knee. At the center of the pool is a column with exquisite patterns. A vine is wrapped around the column, two auspicious magpies fall on it, and under the pigeon is a pipe, which seems to flow out of the gurgling water. The girl holds the water with both hands, which is very cool. If you look down carefully, you will find that there is clear water flowing to the pool beside her, which is very artistic. On the other side of the pillar is the elephant head, which will bring good luck and wealth to the owner.
This woman statue water fountain is lifelike image of a naked girl adds beautiful and elegant temperament and fresh vitality to the sculpture. The exquisite patterns on the pillars not only make the fountain sculpture more attractive, but also add the meaning of good luck. Water represents wealthh. Therefore, this female water fountain not only shows the master's artistic self-restraint, but also adds exotic customs with European characteristics, and also represents adding wealth to the master.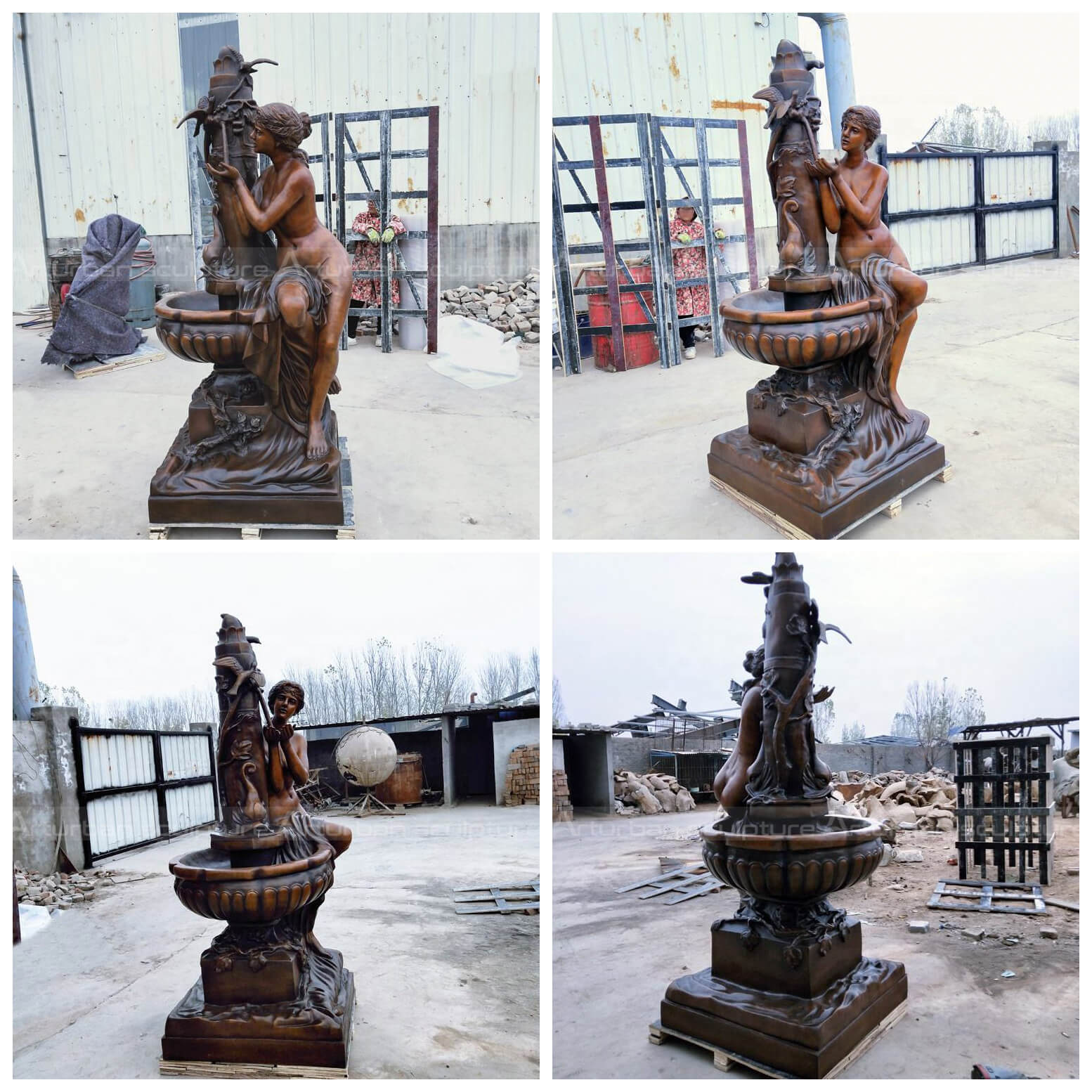 2.Production Proccess
1. Confirming the details drawing/ 3D mold/ Pictures with clients.
2. Making clay mold according to drawing/ client's photos/ 3D mold.
3. Lost-Wax casting bronze/brass statues.
4. Welding and Chasing.
5. Patina and wax surface, take all different views pictures/ videos, show to clients.
6. Packing into wooden cases after clients are satisfied with sculptures.
Send us your requirements now, we will reply to your email within 24 hours