1.Introduction of willow sculptures for the garden
The willow sculptures for the garden is based on a willow tree and is exquisitely treated with stainless steel material, presenting
a lifelike effect. Each willow leaf is meticulously carved and positioned, giving the entire sculpture a metallic sheen in the sunlight,
giving a modern and technological feel.
Stainless steel willow tree sculptures can become a unique focal point in any environment. In public places, such as city squares
or gardens, it can serve as a landscape sculpture to decorate the entire space, providing a place for people to appreciate art. In a
private garden or courtyard, this sculpture can also blend into the natural environment, creating a peaceful atmosphere for families
that blends modernity and nature.
The advantages in production are mainly reflected in the selection of stainless steel materials. Stainless steel has superior weather
resistance and corrosion resistance, and can maintain long-term aesthetics under different climatic conditions. In addition, stainless
steel is easy to process and shape, allowing sculptors to express their creativity more freely, presenting more complex and exquisite
designs.
Overall, stainless steel willow Tree Garden Statue has become a highly artistic and ornamental sculpture due to its unique appearance,
decorative effect, and production advantages. Its modernity and clever expression of natural elements make this work uniquely appealing
to people's attention in urban landscapes or private courtyards.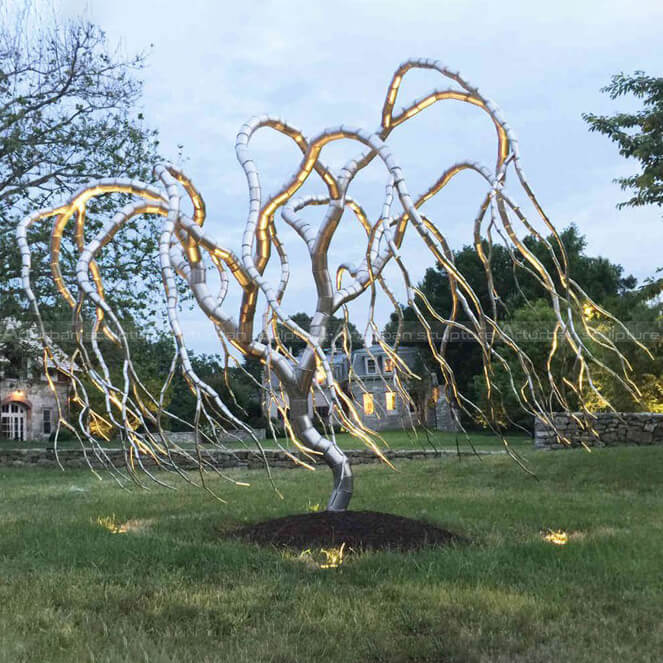 2. Production Process of willow sculptures for the garden
Send us your requirements now, we will to your email within 24 hours.