1.Introduction of The Fisherman's Rare Catch Sculpture
The fisherman's rare catch sculpture is an exquisite sculpture created by German sculptor Ernst Herter, located in Victoria Park in Berlin.
This sculpture vividly depicts the scene of a fisherman catching a two tailed mermaid trapped in a net by the seaside.
The appearance of the sculpture leaves a deep impression on people. The fisherman's muscular lines and posture are realistic, demonstrating
his motivation and determination to pull the fishing net hard. The trapped mermaid displayed a helpless and eager expression for freedom.
The sculptor, through exquisite craftsmanship, vividly portrays the tension and drama of this moment, giving people a feeling of being on site.
This sculpture was placed in Victoria Park, becoming a unique landscape within the park. When tourists appreciate this sculpture, they can
not only feel the artist's creative inspiration, but also immerse themselves in this touching story. At the same time, this sculpture also adds a
romantic and mysterious atmosphere to Victoria Park, attracting many art and cultural enthusiasts to visit.
The fisherman's rare catch sculpture is made of sturdy and durable materials, and the details and proportions are fully considered during the
production process. This makes the sculpture not only have excellent durability and can maintain good condition in outdoor environments for
a long time, but also outstanding in terms of texture and touch. The exquisite craftsmanship of artists and their ability to control materials make
sculptures highly artistic and ornamental.
Sculpture has become a pearl in Berlin's Victoria Park. It is not only a masterpiece of art, but also a cultural inheritance, providing tourists with a
wonderful experience of delving into the art world.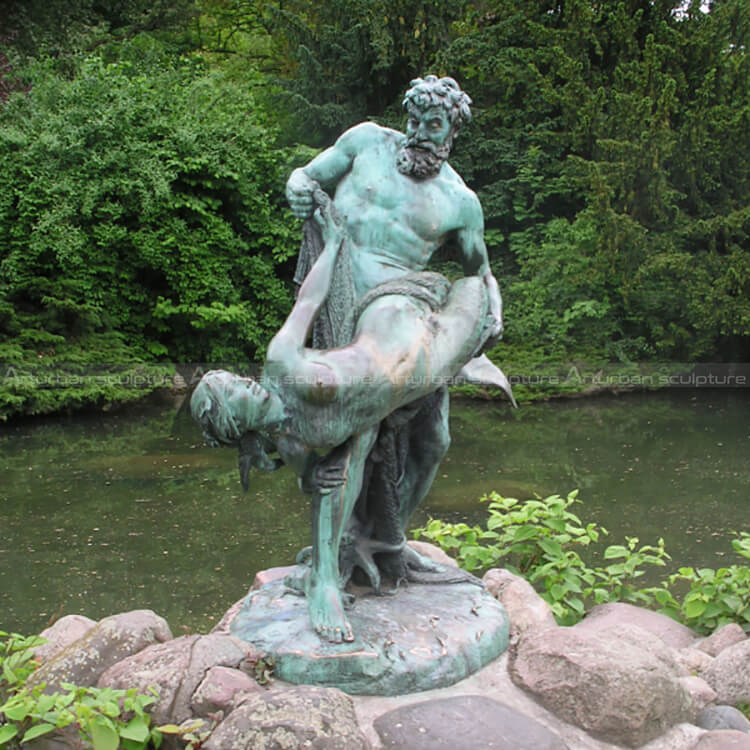 2. Production process of The Fisherman's Rare Catch Sculpture
| | |
| --- | --- |
| Step1 Design   Communication: |  You supply us with several pictures with size. |
|  Step 2: Project Consultation: |  Our team will make a production plan, according to your design, budget,   delivery time,  or any other service. Our final aim is to supply high quality and cost-saving sculpture efficiently. |
|  Step 3: Confirm Mold |  We will make 1:1 clay or 3D mold,when finished clay mold,i will take photos  for your reference, the clay mold can modify any details till you're satisfied with it |
|  Step 4: Casting |  We will use advanced lost wax casting technology to cast bronze or brass |
|  Step 5: Repair, welding &Chasing |  We will repair the hole of statue, then welding and chasing, which is the key step to make fine high quality statue. |
|  Step 6: Patina and wax surface |  We will paint the color as the image the customer sent, then make wax surface. When finished statue, also i will take photos for your reference. After you're satisfied with all, i will arrange packing and shipment |
|  Step 7: Package |  Strong wooden crate with waterproof and shockproof foam inside |
Send us your requirements now, we will reply to your email within 24 hours