1.Introduction of Bronze Swan Water Fountain
Bronze Swan Water Fountain is beautiful and elegant animal sculpture. The White Swan symbolizes light, grace, beauty, love and purity, while the black swan symbolizes mystery. Swan is a symbol of female beauty and softness. It has even been written in opera and ballet. In people's eyes, it not only has a beautiful external image, but also has internal beauty and self-love.
Our group of Swan fountain sculptures are five beautiful swans squatting on the foundation stone respectively. They stretch their slender necks like an elegant woman. The water sprays out of the swan's mouth and finally returns to the pool, just like children who leave home and finally return to their mother's arms. This sculpture is made of bronze by lost wax casting, shows the details of the sculpture vividly. We use the chemical coloring method with cyan gray, with a retro flavor. If you like beautiful bronze water fountain, you can contact us. We will make beautiful fountain sculpture for you and add vitality to your garden and courtyard.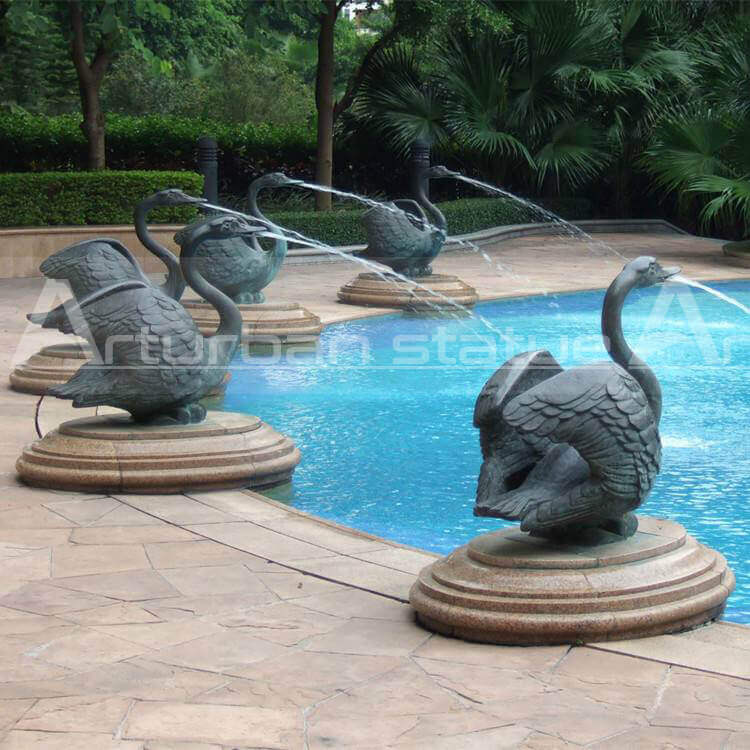 2.Project cases of fountain
3.Production Proccess of Bronze Swan Water Fountain
1. Confirming the details drawing/ 3D mold/ Pictures with clients.
2. Making clay mold according to drawing/ client's photos/ 3D mold.
3. Lost-Wax casting bronze/brass statues.
4. Welding and Chasing.
5. Patina and wax surface, take all different views pictures/ videos, show to clients.
6. Packing into wooden cases after clients are satisfied with sculptures.
Send us your requirements now, we will reply to your email within 24 hours