1.Introduction of standing woman statue
This standing woman statue is a very classic sexy female. It is an artistic sculpture with delicate
and sexy body. The woman is wearing a long skirt like tulle, and her beautiful figure is looming.
The soft clothes float with the wind. Her hair is also very beautiful. The hair that floats with the
wind is exquisite and flexible. Her hands are on her chest, holding the flute tightly in her hands,
showing the elegance and soft beauty of women. Such a beautiful picture, whether in the green
grass, the tree-lined garden, or the square where people come and go, pedestrian will stop to
appreciate its beauty.
This standing woman statue is very ingenious, and the details of the work are just right. The
expression of the woman are very delicate and natural, the movement is natural and elegant,
and the creases and folds of the clothes are very natural. Such a beautiful and sexy human body
and unique sculpture style make the whole sculpture colorful and touching. Only high-quality
sculpture materials can create high-quality sculpture works. We support the customization of
high-quality Woman Bronze Sculpture. If you need outdoor sculpture and indoor sculpture as
decoration, you can contact us at any time for more details.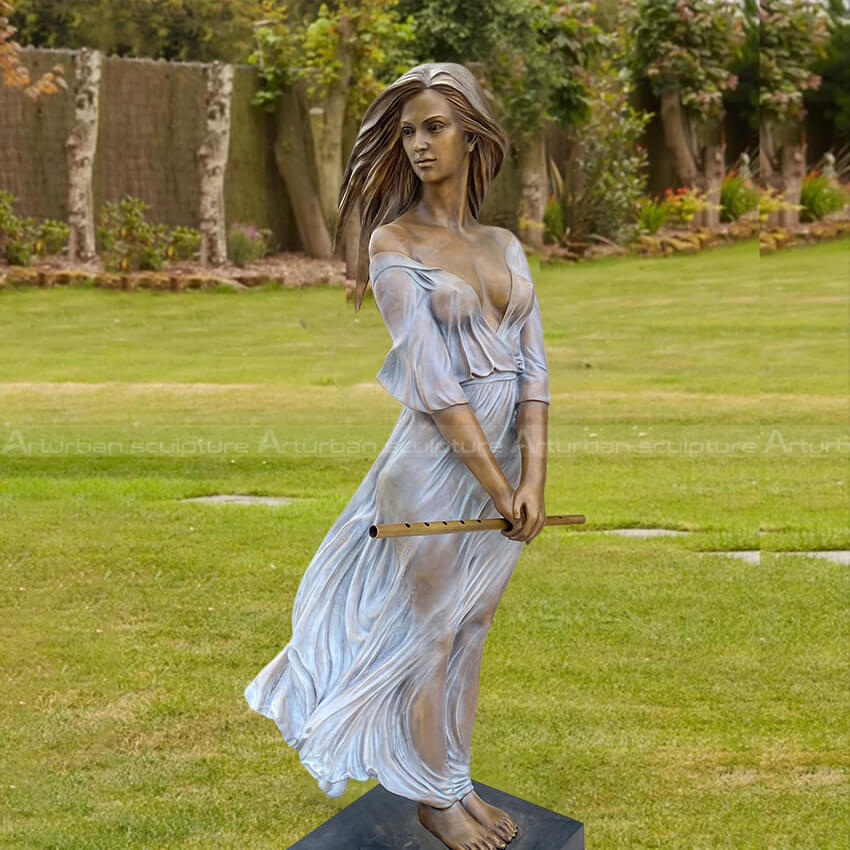 2.Production Process of woman bronze sculpture
1. Confirming the details drawing/ 3D mold/ Pictures with clients.
2. Making clay mold according to drawing/ client's photos/ 3D mold.
3. Lost-Wax casting bronze/brass statues.
4. Welding and Chasing. It is very key step for high quaility sculpture.
5. Patina and wax surface, take all different views pictures/ videos, show to clients.
6. Packing into wooden cases after clients are satisfied with sculptures.
Send us your requirements now, we will reply to your email within 24 hours