1.Introduction of standing horse statue
This bronze standing horse statue is a work of art full of youthful vitality and vitality. This pony showcases its youthful grandeur, with long
legs and a slender body, reflecting the vitality and vitality of life. The foal's posture is very alert, with its ears raised, showing alertness to its
surroundings, as if ready to face new adventures and challenges at any time.
The appearance of this sculpture is very lifelike, and the artist cleverly captured every detail of the foal. From its strong physique to vibrant
posture, every part is meticulously carved, making the sculpture highly valuable for viewing. Viewers can clearly see the muscle lines and hair
texture of the foal, which is an exquisite craftsmanship that gives the sculpture a more realistic and three-dimensional feel.
The sculpture of a pony can add vitality and vitality to any indoor or outdoor space. Whether placed in gardens, courtyards, or indoor spaces
such as living rooms and study rooms, it can bring a pleasant atmosphere to the environment. The posture of this pony is also suitable as a
decoration for commercial venues such as offices and corporate lobbies, showcasing a positive and enterprising corporate spirit.
This foal sculpture uses high-quality materials such as high-strength resin, which has good durability and weather resistance, making it suitable
for long-term outdoor placement. The production process is exquisite, and after fine carving and polishing treatment, the surface of the sculpture
is smooth and delicate, with a comfortable feel, while also increasing the ornamental value of the sculpture.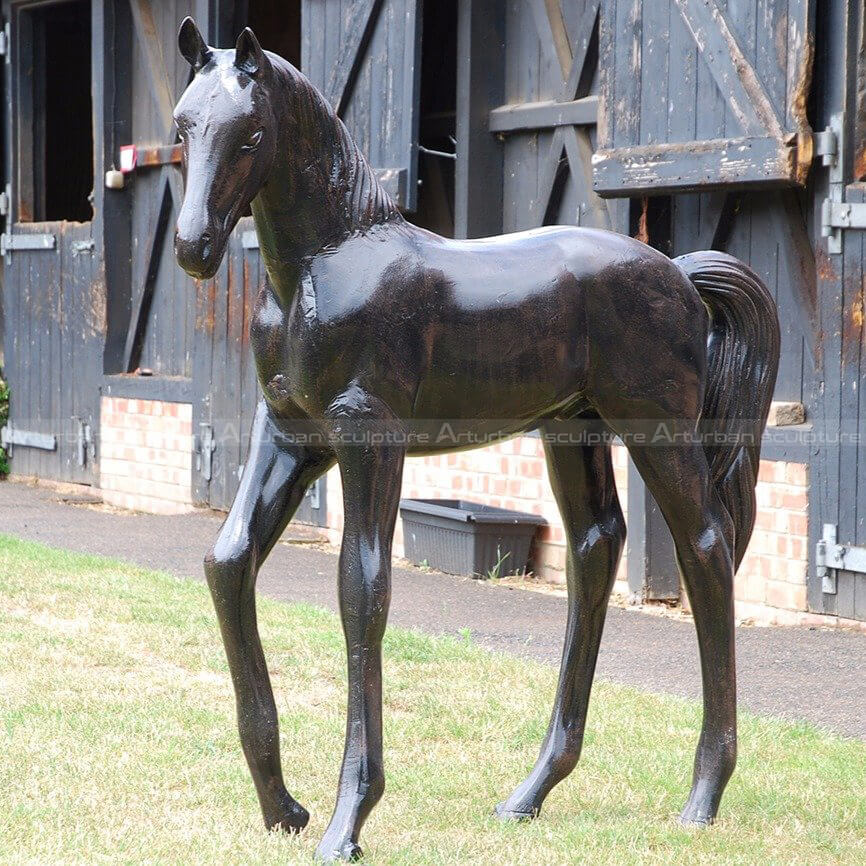 2.Production Process of standing horse statue
1. Confirming the details drawing/ 3D mold/ Pictures with clients.
2. Making clay mold according to drawing/ client's photos/ 3D mold.
3. Lost-Wax casting bronze/brass statues.
4. Welding and Chasing.
5. Patina and wax surface, take all different views pictures/ videos, show to clients.
6. Packing into wooden cases after clients satisfied with sculptures.
Send us your requirements now, we will reply to your email within 24 hours