1.Introduction of spirit of ecstasy statue
This silver spirit of ecstasy statue is the symbol of the head of Rolls Royce. It would be a perfect gift for a man. Perfect decoration for desk or outdoor garden. All enthusiasts of cars will like it because it is such a famous symbol. It exudes the luxury of the world's top cars. In this silver finish, there is nothing more beautiful than this sculpture. It will become any outdoor or indoor exquisite art sculpture decoration, and it is a perfect gift for people. It can keep its exquisite shape for a long time to accompany you through the long years.
The exquisite details of silver spirit of ecstasy statue clearly show the perfect artistic effect. It will become the supreme pleasure on the journey. She is expressing her strong enjoyment. The statue opens her arms and looks at the distance. We have rich experience in bronze sculpture, which can perfectly show the artistic effect of exquisite sculpture. We use electroplating to color, and the silver color has luster, adding a fashionable and generous artistic effect.
Our factory has more than 20 years of experience. Our sculptors pay attention to the details of the sculpture. They not only vividly depict the abstract artistic beauty of the characters, but also give them rich emotion and body movements. We also have many artistic sculptures, which are very exquisite and can be used for decoration on any occasion. If you are looking for high-quality bronze sculpture, you can contact us at any time, and we will make the shape, size and color you need.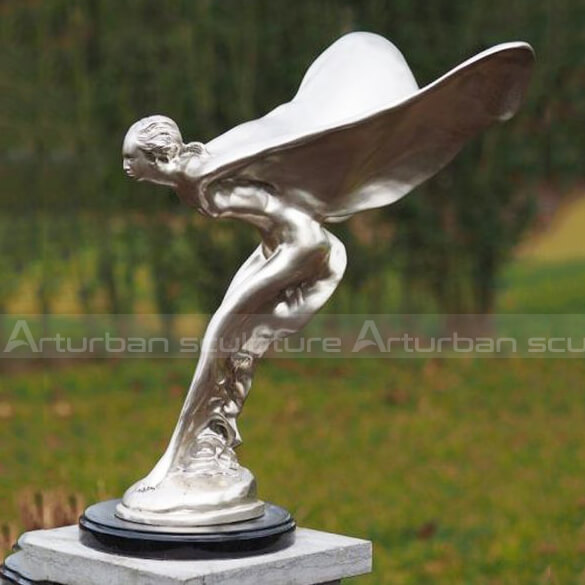 2.Production Process of spirit of ecstasy statue
1. Confirming the details drawing/ 3D mold/ Pictures with clients.
2. Making clay mold according to drawing/ client's photos/ 3D mold.
3. Lost-Wax casting bronze/brass statues.
4. Welding and Chasing. It is very key step for high quaility sculpture.
5. Patina and wax surface, take all different views pictures/ videos, show to clients.
6. Packing into wooden cases after clients are satisfied with sculptures.
Send us your requirements now, we will reply to your email within 24 hours