1.Introduction of seahorse statue outdoor
This is a very beautiful stainless steel colored seahorse statue outdoor. We can clearly see its sharp
tubular mouth, protruding chest and abdomen, the trunk composed of a circle of segmented bone
rings, the tail is thin and long, and coiled up to form a classic ring state. There is a beautiful shell
under its body, holding its body up. The design of the mirror makes its bright body more beautiful
and moving. It can not only used as a Stainless Steel Garden Ornaments, but also as a decoration
for theme parks, seashore, pond sides and courtyards, living rooms, desks and other places. It is a
very beautiful existence.
This seahorse statue outdoor made of stainless steel, and the convex texture on the surface and the
gradual color blending perfectly add infinite appeal and vitality to the stainless steel sculpture. This
sculpture painted by electroplating. The color transition is natural, the color is gorgeous, and the surface
is as smooth as a mirror. It is very beautiful. Our Arturban Sculpture Foundry has a wealth of stainless
steel sculptures, which can produce multi-surface shapes and display different aesthetic feelings. If you
are interested in stainless steel sculpture, you can contact us at any time for more details.

2. Project cases of stainless steel sculpture
3. Production Process of seahorse statue outdoor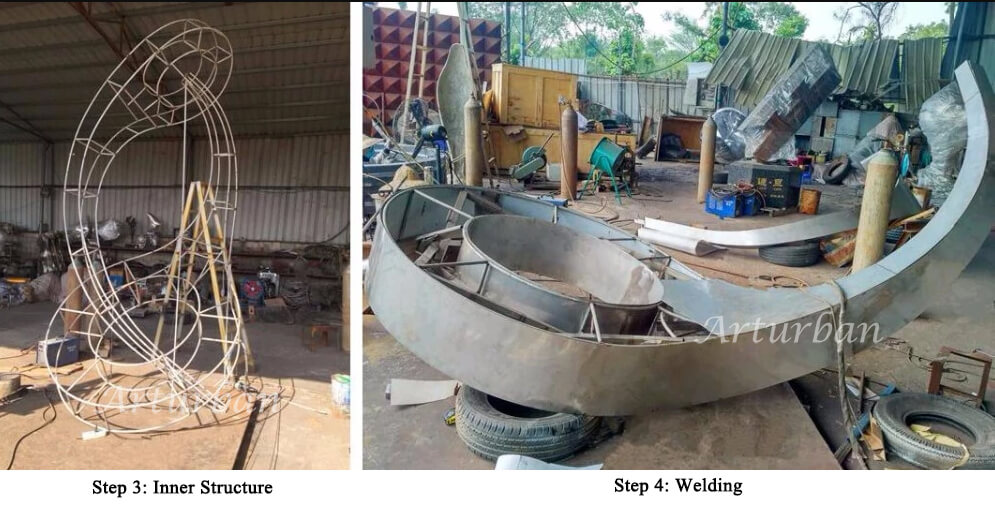 Send us your requirements now, we will reply to your email within 24 hours