1.Introduction of Saint Francis sculpture
Let's see a Saint Francis sculpture as below. Saint Francis, also known as St. Francis, is a saint of animals, businessmen, the Catholic church movement and the natural environment. It is said that due to the divine will of God, before the 40 day fasting of God, the general leader of Saint Mier, God showed his difference and printed on him the five wounds suffered by Jesus during his crucifixion, so as to influence the hard heart of sinners and make them change their past and change their ways. The mark of St. Francis is also the only officially recognized mark of the Holy See.
Our sculpture is St. Francis in a robe. He holds a book in one hand and a bird in the other, a deer around him looks up at it as if looking up at the God of heaven. He advocated protecting animals and living in harmony with animals, so it is as sacred as a God in the hearts of animals. We also have different forms of Saint Francis Statue.We have rich experience in sculpture production and  pay attention to the production details. If you are really looking for high-quality character sculptures, you can contact us. We will produce high-quality works and enable you to display them for a long time.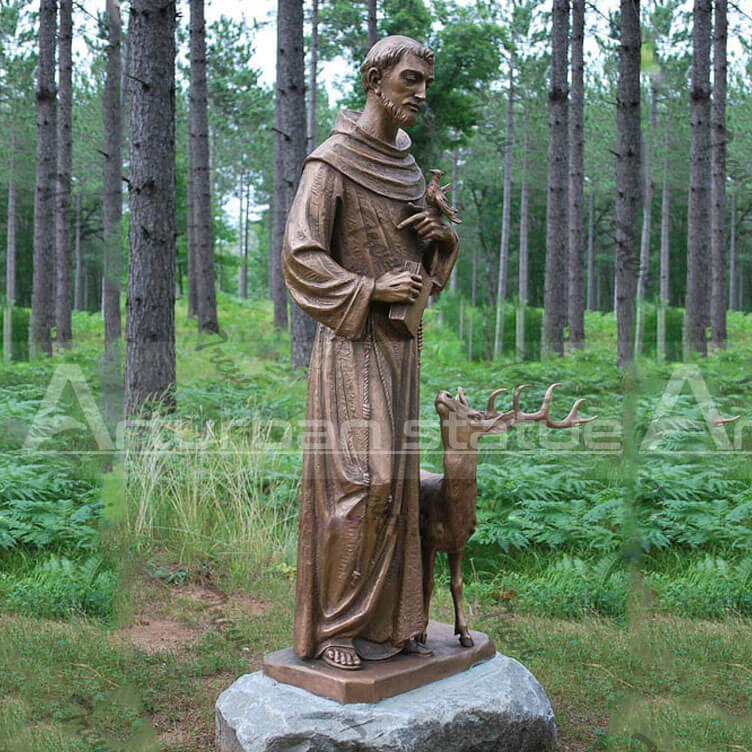 2. Designs of Jesus and Mary statue (we can customize Jesus and Mary statue as your design)
3.Production Process of Saint Francis Sculpture
1. Confirming the details drawing/ 3D mold/ Pictures with clients.
2. Making clay mold according to drawing/ client's photos/ 3D mold.
3. Lost-Wax casting bronze/brass statues.
4. Welding and Chasing.
5. Patina and wax surface, take all different views pictures/ videos, show to clients.
6. Packing into wooden cases after clients are satisfied with sculptures.
Send us your requirements now, we will reply to your email within 24 hours