1.Introduction of Pregnant Virgin Mary Statue
This is a story about pregnant virgin Mary statue. God sent the angel Baccalais to find the Virgin Mary in Nazareth, a small town in Galilee. At that time, she was engaged to Joseph, a descendant of King David. The angel found Mary and said, "Hello, you special favor. The Lord is with you!" Mary was frightened and surprised to hear that. But the angel said to her: don't be afraid, Mary, you have received special favor. You will conceive and have a son, and you will name him Jesus. Mary asked the angel, "how is this possible? I'm still a virgin." The angel said, "the Holy Spirit will come to you, and the supreme power will shadow you. Therefore, the holy one you will bear will be called the son of God."
This sculpture is the pregnant Mary who accepted God's will. Her bulging belly indicates that she is about to give birth to Jesus, and her husband Joseph put a hand behind her, carefully took care of Mary and silently supported her behind her. Our sculpture shows Joseph's ruggedness as a carpenter and Mary's tenderness and kindness. We also have many sculptures of Mary, Joseph and Jesus, please click here Virgin Mary and Jesus Sculpture. If you are a devout believer and need high-quality religious sculptures, you can contact us at any time. We can make the required sizes for you and customize your own sculptures.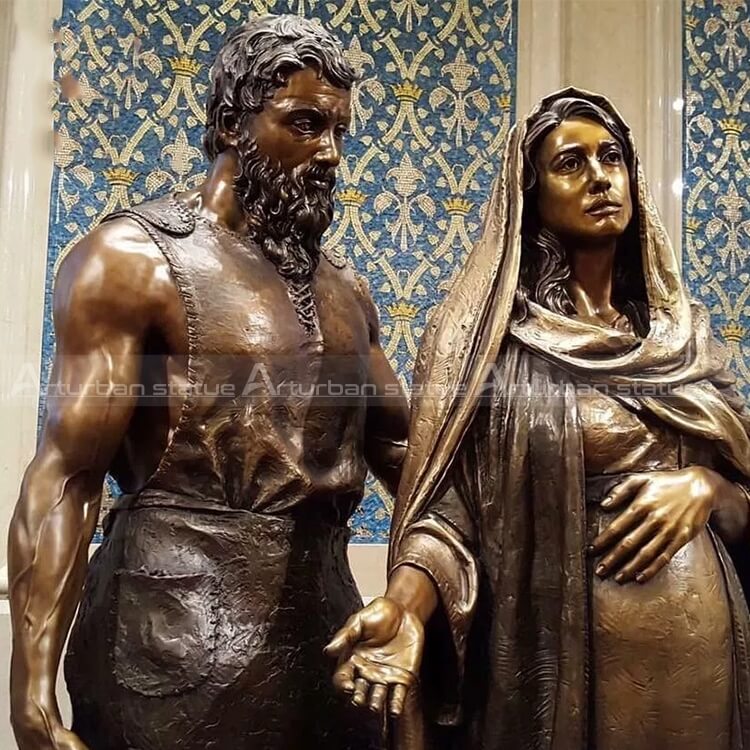 2. Designs of Jesus and Mary statue (we can customize statue as your design)
3.Production Process of Pregnant Virgin Mary Statue
1. Confirming the details drawing/ 3D mold/ Pictures with clients.
2. Making clay mold according to drawing/ client's photos/ 3D mold.
3. Lost-Wax casting bronze/brass statues.
4. Welding and Chasing.
5. Patina and wax surface, take all different views pictures/ videos, show to clients.
6. Packing into wooden cases after clients are satisfied with sculptures.
Send us your requirements now, we will reply to your email within 24 hours