1.Introduction of perseus holding medusa's head
Perseus holding medusa's head is a classic sculpture of the mythical legend that Perseus killed Medusa. This sculpture shows the moment when Perseus held up Medusa's head, which was still dripping with blood. Perseus trampled her body under his feet. He held a knife in one hand and lifted medusa's head in the other hand. His hair looked like snakes crawling, which perfectly restored the situation at that time. After Medusa died, a flying horse was released from her body. Perseus put her head in a god bag and rode back by the horse.
This perseus holding medusa's head vividly depicts the scene of Perseus' killing Medusa. This sculpture seems to be a scene in a movie and make us seem to see the whole thrilling details. We have rich experience in the production of bronze sculptures. We can restore the sculptures beautifully and show exquisite details. Our factory use high-quality materials to make it smooth surface and perfect display all the fine details. We adopt the chemical coloring method. The color is mellow and natural. The bronze skin shows the classical artistic beauty and can be used as outdoor decoration for a long time. If you are interested in this statue or other ancient Greek art sculpture, you can always contact us for more details.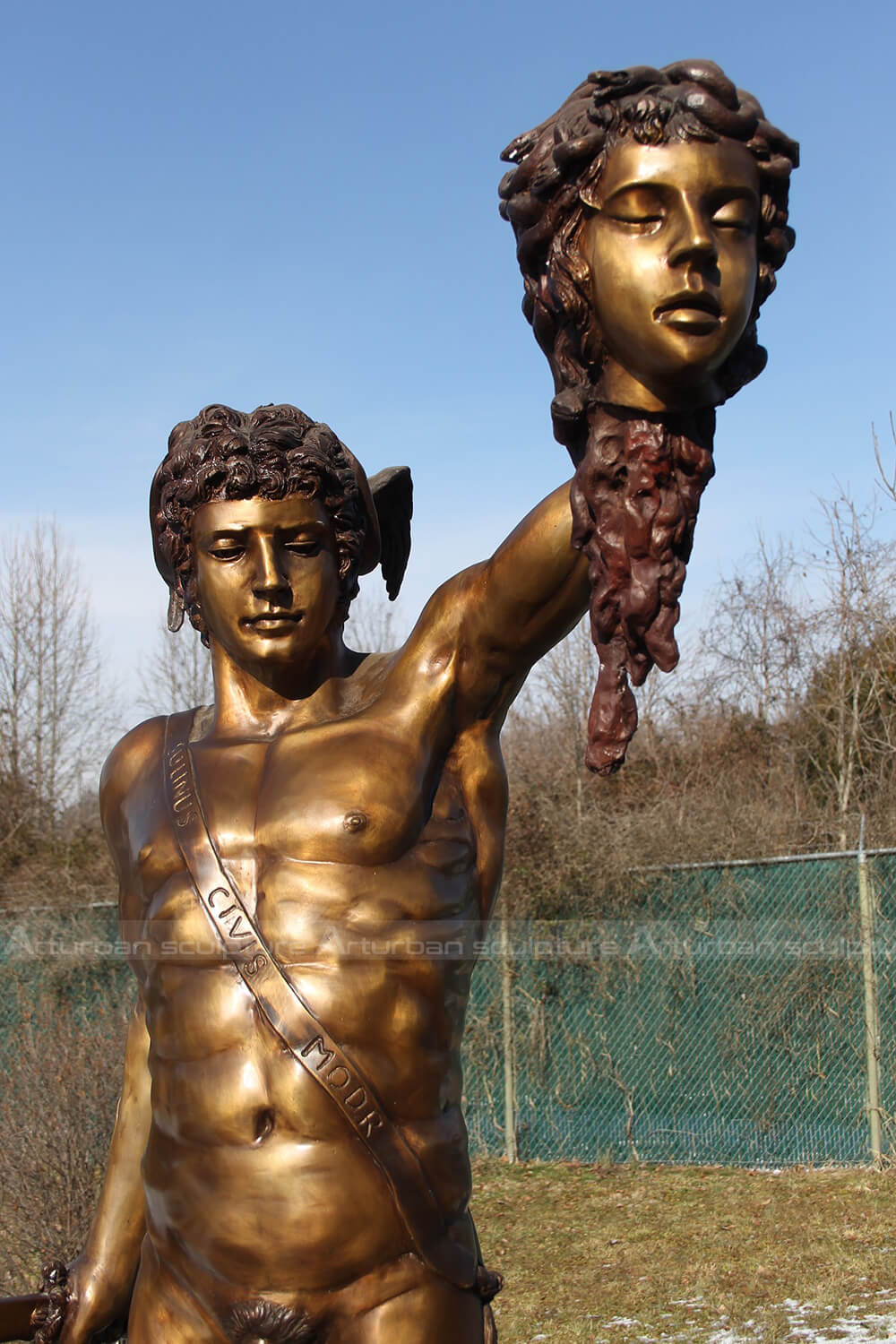 2.Production Process of perseus holding medusa's head
1. Confirming the details drawing/ 3D mold/ Pictures with clients.
2. Making clay mold according to drawing/ client's photos/ 3D mold.
3. Lost-Wax casting bronze/brass statues.
4. Welding and Chasing.
5. Patina and wax surfance, take all different views pictures/ videos, show to clients.
6. Packing into wooden cases after clients satisfied with sculptures.
Send us your requirements now, we will reply to your email within 24 hours