1.Introduction of paper airplane sculpture
The paper airplane sculpture has attracted the attention of many viewers with its unique and eye-catching appearance.
The sculpture presents a folded metal airplane, with exquisite details and realistic expressive power that is breathtaking.
The metal airplane in the sculpture is cleverly presented in a folded state, as if preparing for takeoff or landing. Its outline
is clear, and the metallic luster gives the sculpture a sense of dynamism, as if an airplane is ready to unfold its wings and
take off at any time.
This large folding aircraft stainless steel sculpture is suitable for placement in open spaces such as parks, squares, museum
vestibules, or large corporate parks. Its unique form can attract passersby and tourists to stop and admire, adding a sense
of modernity and artistic atmosphere to the environment.
In terms of production, stainless steel as a material has advantages such as corrosion resistance, weather resistance, and
stability. This allows the sculpture to maintain a bright appearance under various climatic conditions, reducing maintenance
costs. The plasticity of stainless steel also allows artists to present the details of folding airplanes more realistically. In addition,
the luster of stainless steel can reflect the surrounding light, allowing the sculpture to exhibit different aesthetic sensations under
different lighting conditions.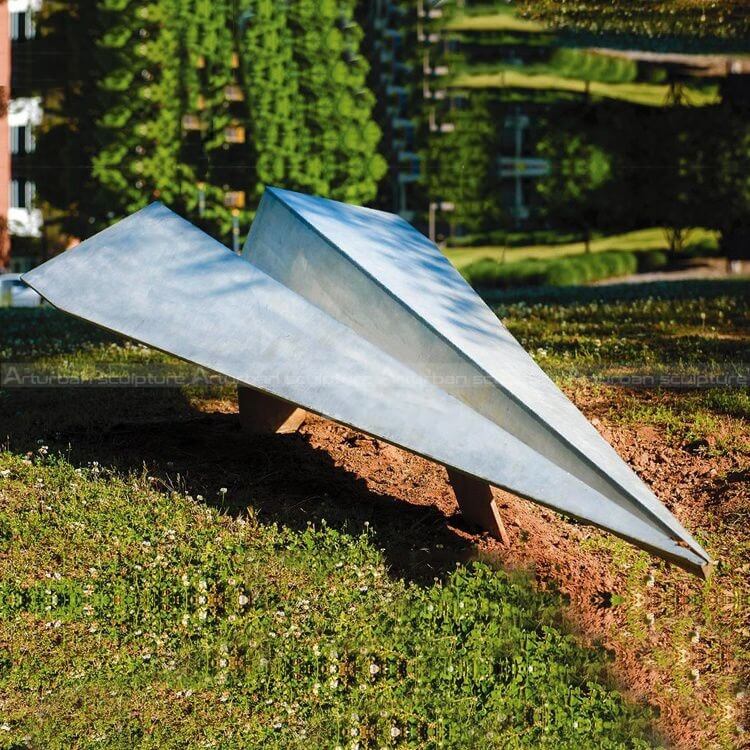 2. Production Process of paper airplane sculpture
Send us your requirements now, we will to your email within 24 hours.