1.Introduction of panda garden statue
Bronze panda garden statue is very eye-catching, with a cute and adorable posture sitting on the base, and a chubby body that
exudes cuteness. The sculptor, through clever craftsmanship, vividly showcases the round eyes and vivid hair of giant pandas, making
the entire sculpture seem to be sitting there vividly, giving people a feeling of intimate contact.
This Panda Garden Ornament is not only a work of art, but also a unique decorative element. Its realistic image adds a lot of color to
the indoor and outdoor environment, suitable for placement in gardens, courtyards, or public areas, bringing harmony and nature to
the space. The cute image of giant pandas also brings spiritual pleasure to viewers, making them feel like they are in the embrace of
nature.
The selection of bronze as the material for the sculpture makes the panda sculpture more durable and stable. Bronze sculptures can
maintain their appearance stability and luster for a long time in outdoor environments. The sculptor's handling of details and mastery
of contrast enable the sculpture to exhibit eye-catching effects under different lighting conditions.
This bronze giant panda sculpture, with its realistic appearance, unique decorative effect, and sturdy manufacturing advantages, has
become an excellent work to showcase the charm and vitality of giant pandas. As viewers appreciate this sculpture, it feels as if they
are in close contact with giant pandas and feel the unique charm of this rare species.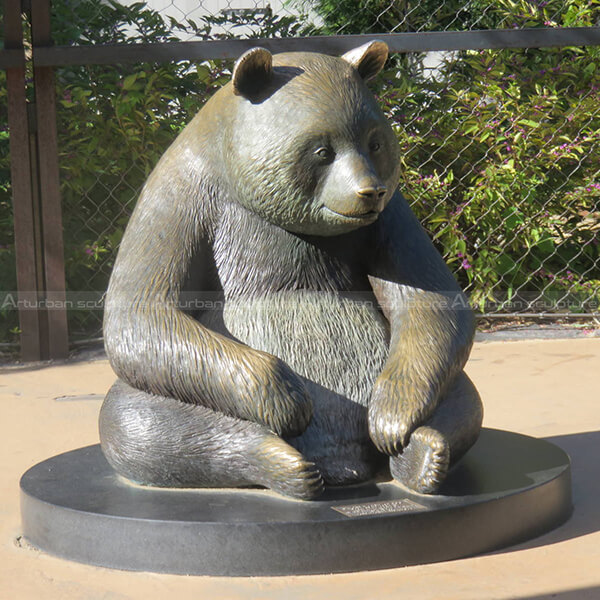 2.Production Process of panda garden statue
1. Confirming the details drawing/ 3D mold/ Pictures with clients.
2. Making clay mold according to drawing/ client's photos/ 3D mold.
3. Lost-Wax casting bronze/brass statues.
4. Welding and Chasing.
5. Patina and wax surfance, take all different views pictures/ videos, show to clients.
6. Packing into wooden cases after clients are satisfied with sculptures.
Send us your requirements now, we will reply to your email within 24 hours