1.Introduction of outdoor garden spheres
These sculptures are very beautiful hollow stainless steel outdoor garden spheres. We can see beautiful flowers, auspicious clouds and abstract curves on these hollow spheres, which are very beautiful against the background of different colors. The beautiful stainless steel hollow sphere sculptures have different patterns on it, which are full of artistic flavor. Moreover, the specifications, patterns and shapes of stainless steel spheres are different, and then decorated with different colors, showing a very fashionable artistic effect. It will be a very vivid decorative sculpture in the garden.
We have rich experience in the production of stainless steel sculptures, and outdoor garden spheres are one of the sculptures we often make. The production process of stainless steel hollow ball is basically the same as that of other stainless steel sculptures. First, the stainless steel plate should be cut according to the pattern designed on the computer, and then the tupe bent into the same radian to combine the appearance of the hollow ball. At the same time, we need to number the pattern shape, so that workers can easily record the installation position of the hollow ball sculpture. The bent stainless steel tube is welded and combined into a sphere, and then cut pattern shape is welded on the steel pipe. At this time, the prototype of hollow out ball sculpture has been formed. After welding, the surface of the stainless steel hollow ball is relatively rough. We also need to use grinding iron sheet and flower impeller for grinding treatment, so as to present the final effect of the hollow ball in front of us. Finally, after polishing, the hollowed out spherical sculpture with beautiful color is completed.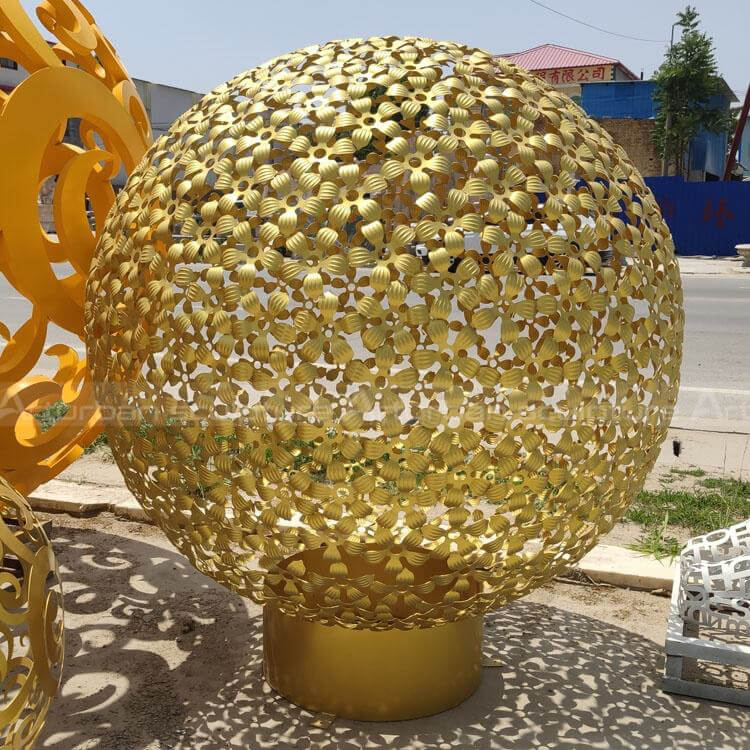 2. Production process

Send us your requiremnts now, we will reply to your email within 24 hours