1.Introduction of Mother Mary Holding Jesus Statue
This describes  the famous mother Mary holding Jesus statue,which is the best interpretation of Pieta by master Michelangelo. In this sculpture, the Virgin Mary looks down on her son with a sad face. There was no expression of pain on Jesus' face, because he was willing to suffer in place of the world. He lay weakly between the Virgin Mary's knees, his right hand drooped, his head tilted back, his waist bent, and slept in a state of death.
Unlike the image of Jesus, the image of the Virgin Mary is so young and beautiful that it doesn't look like a mother at all. Because Michelangelo believes that the Virgin Mary is the embodiment of purity and sublimity and the symbol of sacred things. It is bound to avoid the torture of years and the wear and tear of things in the world and maintain youth forever. Our Pieta sculpture is very popular and is sought after by many religious believers. If you are looking for high-quality religious sculptures of Michelangelo Statue of Mary Holding Jesus, you can contact us for more details. We will serve you wholeheartedly and give you a perfect statue.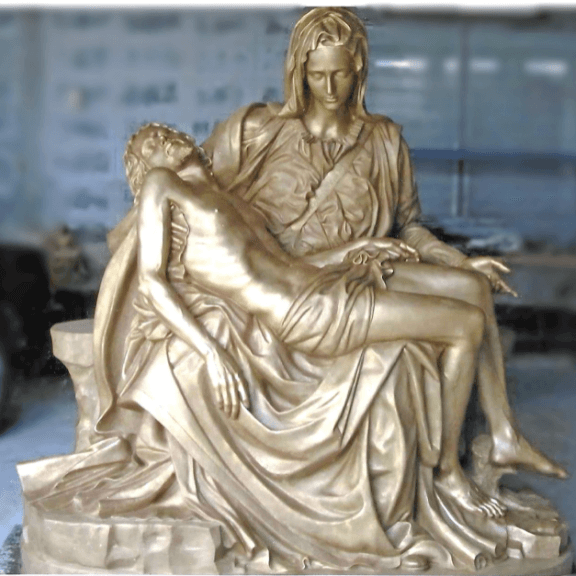 2. Designs of Jesus and Mary statue (we can customize Mary and Jesus statue as your design)
3.Production Process of Mother Mary Holding Jesus Statue
1. Confirming the details drawing/ 3D mold/ Pictures with clients.
2. Making clay mold according to drawing/ client's photos/ 3D mold.
3. Lost-Wax casting bronze/brass statues.
4. Welding and Chasing.
5. Patina and wax surface, take all different views pictures/ videos, show to clients.
6. Packing into wooden cases after clients are satisfied with sculptures.
Send us your requirements now, we will reply to your email within 24 hours.