1.Introduction of Mining Monument
The National Mining Monument is a solemn sculpture, towering over 15 feet, showcasing the glorious history of the mining
profession to the world. This monument is a high praise for the brave and selfless spirit of the miners. The sculpture is divided
into two sides, with one side representing the past and showcasing the earliest miners, who were naked and holding picks and
axes, representing the initial explorers and pioneers. On the other side, modern miners are depicted wearing work clothes and
holding modern mining equipment, symbolizing the progress of mining technology and the bravery of modern miners. At the
bottom are two historical guardians, looking forward to the front of the monument.
On the back of this sculpture is the past, presenting the origin and history of the mining profession. The positive side represents
the present and future, representing the prosperity of modern mining and the hope for the future. Hundreds of bronze statues of
miners landed on both sides of the sculpture, working together to merge into two huge hands, symbolizing humanity's determination
and strength to mine precious minerals beneath the Earth's surface.
This National Mining Monument not only visually shocks people, but also expresses respect for the brave profession of miners
through profound symbolism. The sculpture adopts exquisite craftsmanship, and every detail is lifelike, making people feel like
they are in the miners' workplace. This monument is unique in the city, establishing an eternal commemoration for the silently
dedicated group of miners, and showcasing the greatness and bright future of the mining industry to the world.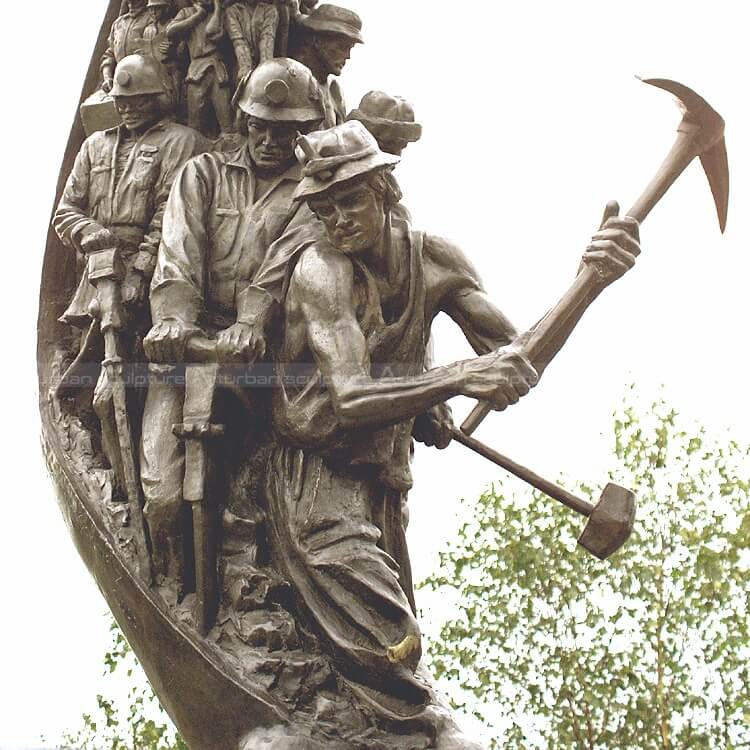 2.Production process of Mining Monument
1. Confirming the details drawing/ 3D mold/ Pictures with clients.
2. Making clay mold according to drawing/ photos/ 3D mold.
3. Lost-Wax casting bronze/brass statues.
4. Welding and Chasing.
5. Patina and wax surface, take all different views pictures/ videos, show to clients.
6. Packing into wooden cases after clients satisfied with the works.
Send us your requirements now, we will reply to your email within 24 hours