1.Introduction of matador sculpture
The matador sculpture is an impressive outdoor sculpture. He is dressed in magnificent bullfighting attire, holding
a red cloak for bullfighting. His posture is tall and powerful, demonstrating perseverance and confidence. The details
of the sculpture are finely depicted, and the muscle lines and clothing textures of the bullfighter are lifelike. His face
was solemn and resolute, and his eyes shone with determination. The entire sculpture creates a passionate atmosphere,
making people feel as if they are in a bullring, feeling the excitement and challenge of bullfighters fighting against
giant beasts.
The Metal Man Sculpture of bullfighter has profound cultural connotations in Spain and other places, and is a tribute
to bullfighting culture and tradition. It also represents praise for bravery and determination. Bullfighter sculptures are
suitable for display in art museums, museums, parks, squares and other places, bringing visual and spiritual shock to
the audience. This statue is not only a work of art, but also an eternal ode to human resilience and the pursuit of freedom.
The advantage of sculpture production lies in the bronze material. Bronze is a sturdy and durable alloy that is not easily
affected by climate and environment, and can maintain its beauty and luster for a long time. At the same time, bronze
material has high plasticity, and sculptors can create complex and exquisite details according to design requirements,
making the bullfighter sculpture lifelike and showcasing its heroic and majestic demeanor.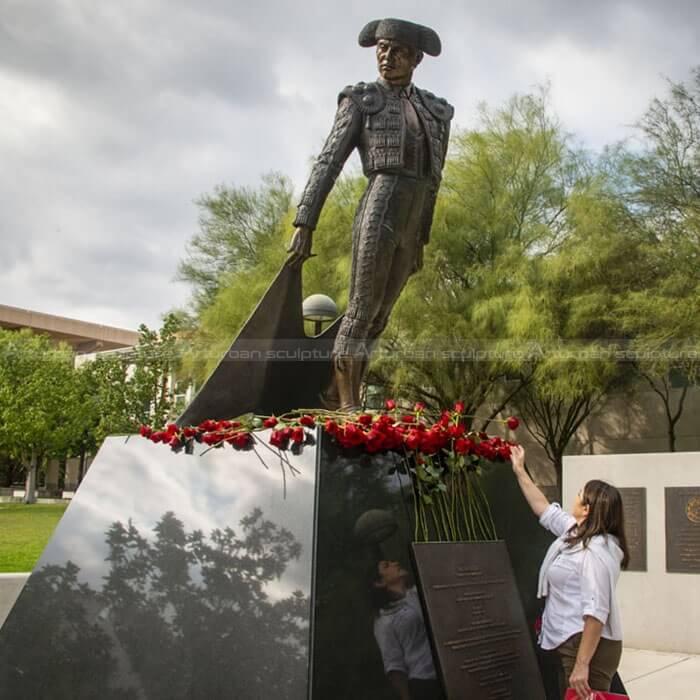 2. Production process of matador sculpture
| | |
| --- | --- |
| Step1 Design   Communication: |  You supply us with several photographs with size. |
|  Step 2: Project Consultation: |  Our team will make a production plan, according to your design, budget,   delivery time,  or any other service. Our final aim is to supply high quality and   cost-saving sculpture efficiently. |
|  Step 3: Confirm Mold |  We will make 1:1 clay or 3D mold,when finished clay mold,i will take photos   for your reference. The clay mold can modify any details till you're satisfied with it |
|  Step 4: Casting |  We will use advanced lost wax casting technology to cast bronze or brass |
|  Step 5: Repair, welding &Chasing |  We will repair the hole of statue, then welding and chasing, which is the key   step to make fine high quality statue. |
|  Step 6: Patina and wax surface | We will paint the color as the image the customer sent, then make wax surface. When finished statue, also i will take photos for your reference. After you satisfied with all, i will arrange packing and shipment |
|  Step 7: Package |  Strong wooden crate with waterproof and shockproof foam inside |
Send us your requiremnts now, we will reply to your email within 24 hours