1.Introduction of Mary Holding Dead Jesus Sculpture
This Mary holding dead Jesus sculpture is a very classic sculpture, and it is also a common sculpture outdoors. This statue of Mary holding the dead Jesus is based on the story of Jesus' death in the Bible. It is said that Jesus was the son of God and saved the world on earth. At that time, many people still didn't believe it. Judas, one of the twelve disciples of Jesus, betrayed Jesus. After the last supper, Jesus was arrested and nailed to the cross. Jesus endured sin instead of human beings and finally died between two prisoners. After Jesus died, the Virgin Mary came and held the body of Jesus in grief.
In this sculpture, we can clearly see that there is a scar under the rib of the dead Jesus. However, there is no painful expression on his face, because he is willing to suffer instead of the world, and his death is meaningful. The body of the dead Jesus was as slender as a gymnast, lying weakly between the knees of the Virgin Mary, with his right hand drooping, his head tilted back, his waist bent, and sleeping in death. Maria wore a veil, closed her eyes and looked up as if praying for God to save her son. This sculpture is of great significance in saints' hearts. We have customized many sculptures for customers and sent them to all over the world. If you need to order such a high-quality Mother Mary and Jesus Sculpture, you can contact us for more details.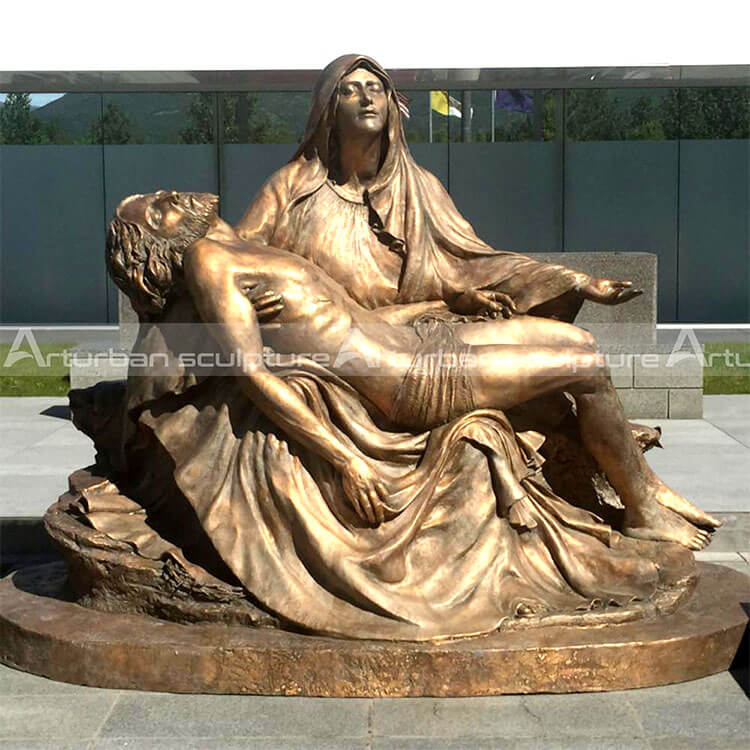 2. Designs of Jesus and Mary statue (we can customize Mary and Jesus statue as your design)
3.Production Process of Mary Holding Dead Jesus Sculpture
1. Confirming the details drawing/ 3D mold/ Pictures with clients.
2. Making clay mold according to drawing/ client's photos/ 3D mold.
3. Lost-Wax casting bronze/brass statues.
4. Welding and Chasing.
5. Patina and wax surface, take all different views pictures/ videos, show to clients.
6. Packing into wooden cases after clients are satisfied with sculptures.
Send us your requirements now, we will reply to your email within 24 hours.