1. Introduction of life size calf statue
This is a very vivid life size calf statue. The calf lies on the ground and has a leisurely rest. It is strong, with sharp and hard horns bent inward, a wide mouth and clear eyes. It looks very wise. Cattle also have many beautiful meanings, which are welcomed by people. It is often seen in gardens, parks, squares, zoos, commercial streets, stock exchanges and other places. Its unique shape brings vitality and fun to the surrounding environment.
We have a variety of bronze cattle sculptures in various forms to meet your needs on various occasions. Our sculptors have rich experience in the production of animals. With exquisite sculpture skills, the shape is lifelike. No matter where they are placed, they are brilliant. We have selected high-quality sculpture materials, which not only make the surface of the sculpture more smooth and delicate, but also can be displayed for a long time in outdoor decoration without fear of wind and rain. We use chemical coloring. The color is thick and with natural transition. When you touch its surface with your hand, it is smooth and delicate, with a very good texture. If you like the bronze cow sculpture or want to bring you money, you can contact us. We have a variety of high-quality sculptures for you to choose from.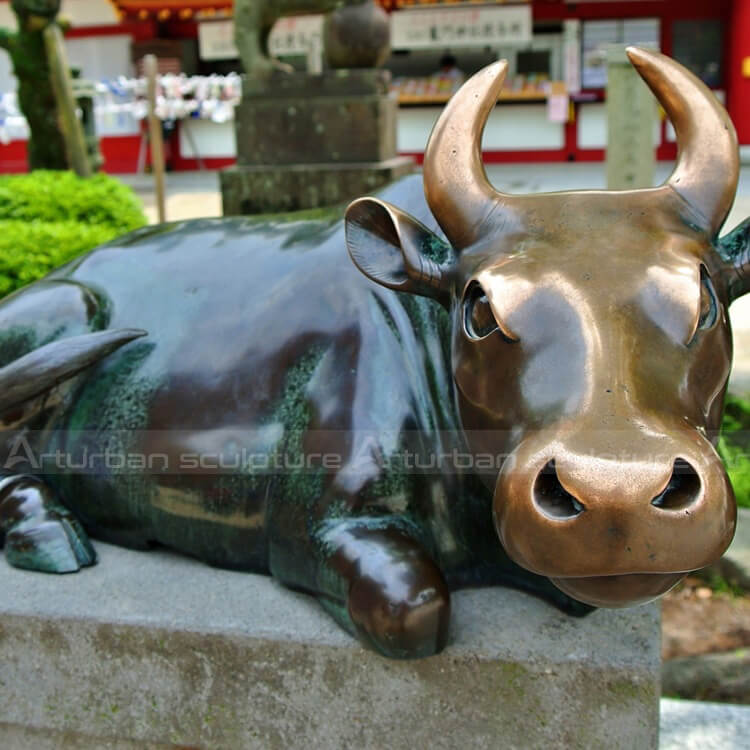 2. Production Process of life size calf statue
| | |
| --- | --- |
| Step1 Design   Communication: |  You supply us with several photographs with dimensions. |
|  Step 2: Project Consultation: |  Our team will make a production plan, according to your design, budget,   delivery time,  or any other service. Our final aim is to supply high quality and   cost-saving sculpture efficiently. |
|  Step 3: Confirm Mold |  We will make 1:1 clay or 3D mold,when finished clay mold,i will take photos   for your reference, the clay mold can modify any details till you're satisfied   with it |
|  Step 4: Casting |  We will use advanced lost wax casting technology to cast bronze or brass |
|  Step 5: Repair, welding &Chasing |  We will repair the hole of statue, then welding and chasing, which is the key   step to make fine high quality statue. |
|  Step 6: Patina and wax surface |  We will paint the color as the image the customer sent, then make wax   surface. when finished statue, also i will take photos for your reference,after   you're satisfied with all, i will arrange packing and shipment |
|  Step 7: Package |  Strong wooden crate with waterproof and shockproof foam inside |
Send us your requirements now, we will reply to your email within 24 hours