1.Introduction of La Pieta Statue
This famous La Pieta statue is created by the famous bronze sculpture fable James Nathan Muir. The statue of the Virgin Mary and Christ based on Michelangelo symbolizes the sacrifice made for human "spiritual" freedom; this sculpture is a symbol of the United States and commemorates the sacrifice made for human "physical" freedom. In this sculpture, Mary becomes the goddess of liberty and embraces the classical warrior. The shield of the warrior bears the badge of the United States of America; and the helmet is the helmet of Athena, the goddess of war. The sword of truth and justice that killed the tyrant was taken away and passed to the next brave soldier. He stood up and occupied a glorious position in the square of freedom. "Oh, stranger, tell the free men that we lie here and obey their orders." the monument is dedicated to "all American soldiers".
We have a professional sculpture team and design team, and we will present you a perfect sculpture. Our sculptors not only display the image and clothing characteristics of the characters, but also highly restore the appearance and charm of the sculpture. We also support free lettering and engrave the required words on the base. If you like Famous Statue of Mary Holding Jesus, you can contact us for more details.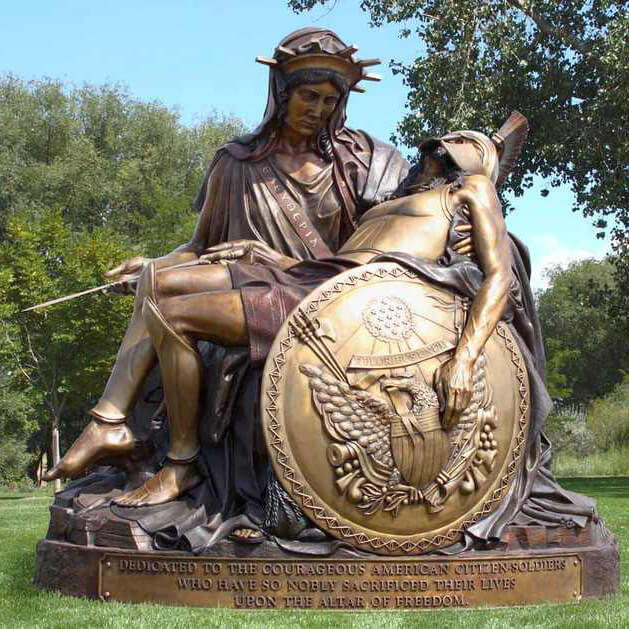 2. Designs of Jesus and Mary statue (we can customize Mary and Jesus statue as your design)
3.Production Process of La Pieta Statue
1. Confirming the details drawing/ 3D mold/ Pictures with clients.
2. Making clay mold according to drawing/ client's photos/ 3D mold.
3. Lost-Wax casting bronze/brass statues.
4. Welding and Chasing.
5. Patina and wax surface, take all different views pictures/ videos, show to clients.
6. Packing into wooden cases after clients are satisfied with sculptures.
Send us your requirements now, we will reply to your email within 24 hours.