1.Introduction of jean louis corby sculpture
This is a gustav vigeland sculpture. Located in Oslo, Norway, Vigeland Park is one of the world's largest sculpture parks and one of Norway's most iconic attractions. The park showcases the works of Norwegian sculptor Gustav Vigeland, known for his unique artistic style and profound depiction of human nature.
The sculptures in Vigeland Park are mainly made of bronze and granite, with a total of over 200 sculptures. These works present various emotions and experiences in the human life cycle, expressing the relationships and inner world between people. The most famous sculptures among them are "The Angry Boy" and "The Little Girl on the Stoop", which deeply touch the hearts of viewers with their true and vivid images.
The Nude Bronze Sculpture of Vigeland Park are famous for their bold and realistic expression techniques. Vigeland portrays the richness and complexity of emotions by portraying the postures, expressions, and body language of characters through sculpture. These works have both a sense of strength and softness, leaving a deep impression on people. Each sculpture in the park has a unique story and symbolic significance, allowing viewers to freely interpret and comprehend.
The sculptures in Vigeland Park are not only artistic expressions, but also a reflection of humanity. They evoke resonance and reflection among viewers with the themes of human emotions and existence. The park itself is also a harmonious space, surrounded by green trees and blooming flowers and plants, providing a natural background for sculpture works, enhancing the charm and uniqueness of the artwork.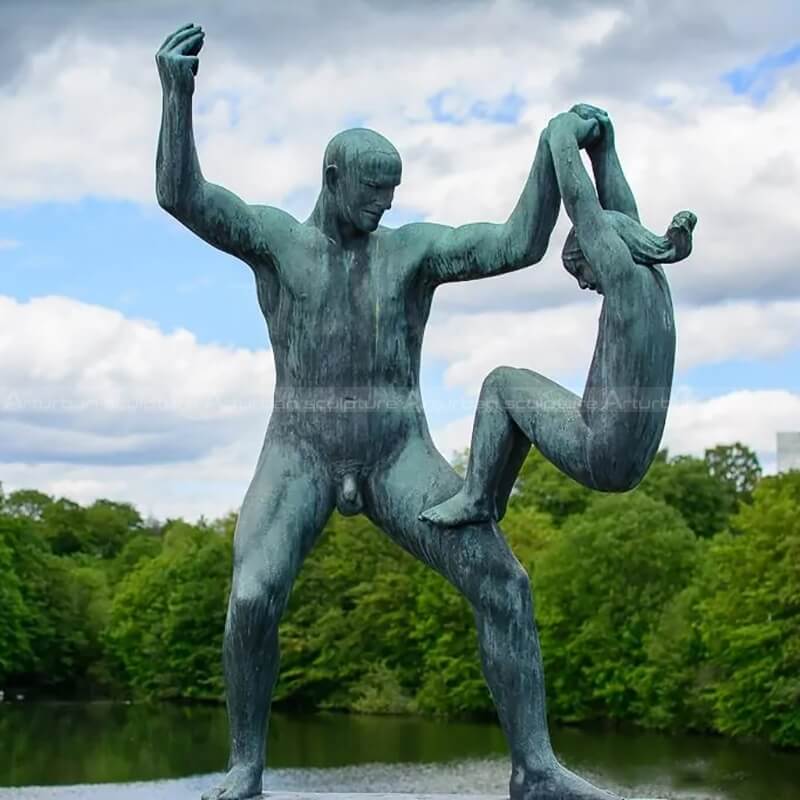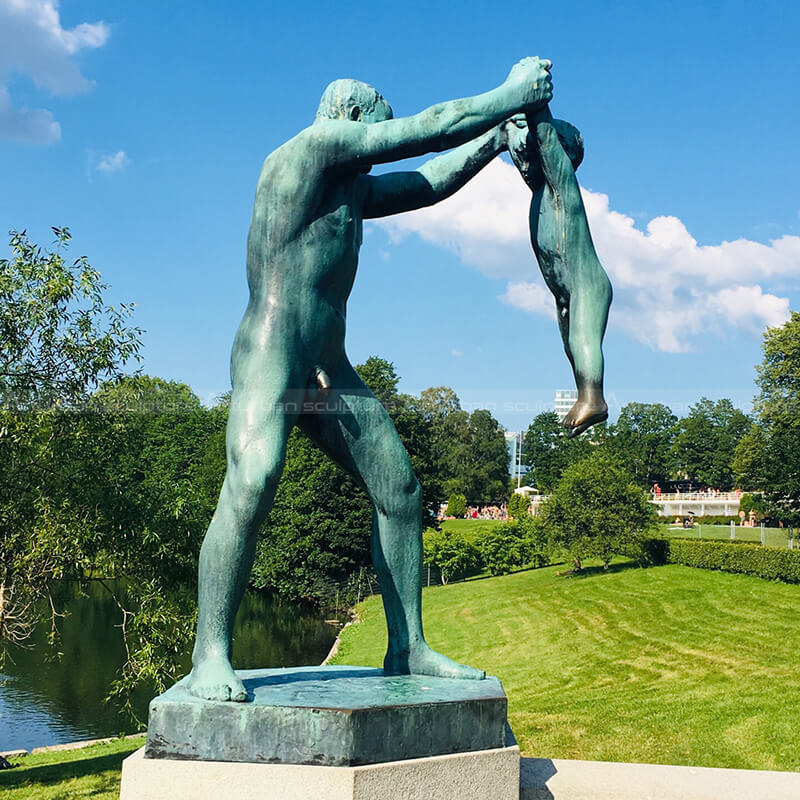 2. Production process of gustav vigeland sculpture
| | |
| --- | --- |
| Step1 Design   Communication: |  You supply us with several photographs with dimensions. |
|  Step 2: Project Consultation: |  Our team will make a production plan, according to your design, budget,   delivery time,  or any other service. Our final aim is to supply high quality and   cost-saving sculpture efficiently. |
|  Step 3: Confirm Mold |  We will make 1:1 clay or 3D mold,when finished clay mold,i will take photos   for your reference. The clay mold can modify any details till you're satisfied with it |
|  Step 4: Casting |  We will use advanced lost wax casting technology to cast bronze or brass |
|  Step 5: Repair, welding &Chasing |  We will repair the hole of statue, then welding and chasing, which is the key   step to make fine high quality statue. |
|  Step 6: Patina and wax surface | We will paint the color as the image the customer sent, then make wax surface. When finished statue, also i will take photos for your reference. After you satisfied with all, i will arrange packing and shipment |
|  Step 7: Package |  Strong wooden crate with waterproof and shockproof foam inside |
Send us your requiremnts now, we will reply to your email within 24 hours