1.Introduction of golf statues for sale
Golf statue is in memory of the famous golfer Arnold Palmer. He is an American professional golfer. Palmer is the first well-known sports star in the United States. His superb skills and charming demeanor have attracted a large number of fans and won the nickname "King". At the same time, in the promotion of golf, he, Jack Nicklaus and Gary Pryor are called the "three giants of golf". Palmer was listed in the World Golf Hall of fame in 1974 and won the PGA Tour Lifetime Achievement Award in 1998. View more gold statues for sale, pls contact us to get catalog.
Golf statueis a very real description of Arnold Palmer's posture and image when playing golf. His legs slightly bent, his upper body twisted with his actions, and his feet rotate with his actions. He holds the club with both hands and raises it high, and his eyes look at the direction of the ball flying out, which is very vivid. Not only that, when he swings, we can see that the muscles on his arms are developed and strong. We have rich experience in character sculpture, which can highly restore the image of characters and perfectly describe the golf spirit. Let golfers respect this sculpture and appreciate his swing. We also have different life size golf statues. You can contact us for more details.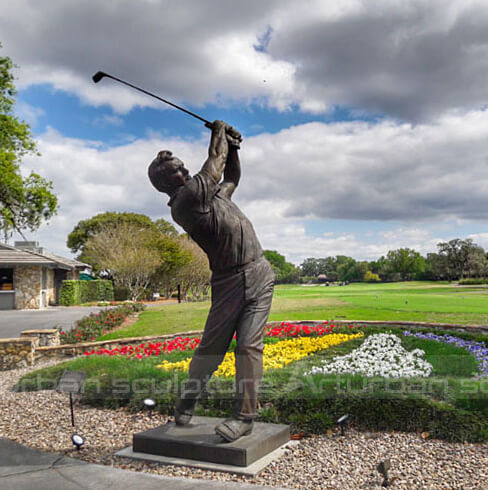 2.Production process of golf statues for sale
1. Confirming the details drawing/ 3D mold/ Pictures with clients.
2. Making clay mold according to drawing/ client's photos/ 3D mold.
3. Lost-Wax casting bronze/brass statues.
4. Welding and Chasing.
5. Patina and wax surface, take all different views pictures/ videos, show to clients.
6. Packing into wooden cases after clients are satisfied with sculptures.
Send us your requirements now, we will reply to your email within 24 hours