1.Introduction of golf statues for outdoors
Golf statues for outdoors was captured by our sculptors. A young and energetic girl was wearing a casual sports skirt and T-shirt, a cap and with a ponytail. She stood on tiptoe, waved the baseball bat and lifted it to the highest part of her arm. She looked at the direction of the baseball flying out, as if watching whether the ball went in or not. It was very vivid as if there is really a girl playing ball in front of us.
This golf statues for outdoors is made of bronze. Golf is a sport that integrates enjoyment of nature, physical exercise and games. Golf is also a kind of ball game that hits the ball into the hole with a stick. We show the character movement in the sculpture vividly, just like giving sculpture life. Put the sculpture in the outdoor courtyard to integrate the sculpture with the environment, as if the sculpture had life and brought vitality to the surrounding environment. We have rich experience in making golf sculpture. If you like bronze sports sculpture, you can contact us. We will make a unique sculpture according to your pictures or your drawings, so that it can accompany you for a long time.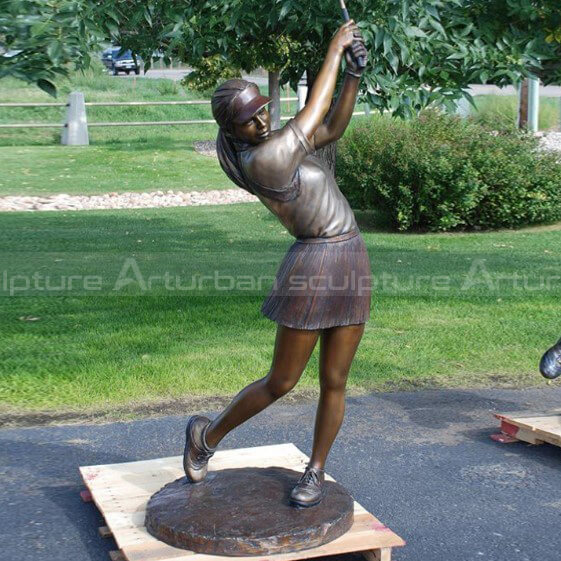 2.Production process of golf statues for outdoors
1. Confirming the details drawing/ 3D mold/ Pictures with clients.
2. Making clay mold according to drawing/ client's photos/ 3D mold.
3. Lost-Wax casting bronze/brass statues.
4. Welding and Chasing.
5. Patina and wax surface, take all different views pictures/ videos, show to clients.
6. Packing into wooden cases after clients are satisfied with sculptures.
Send us your requirements now, we will reply to your email within 24 hours