1.Introduction of Girl Reading Book Statue
Girl Reading Book Statue is a lovely little girl wearing short pants and short sleeves lying on a bench. She wears a ponytail and supports her chin with her hands. The smart little girl also supports the book with a stone, which can make it more convenient to study. Her feet seem to swing leisurely like her mood. It looks very cute. Children are always innocent and full of sunshine. They are the flowers of the motherland and the vision and hope for the future. Therefore, children's sculptures are often full of childlike innocence and hope. They often display the characteristics of life, and vividly depict the characters' bodies, movements, hairstyles and costumes.
We also have many other lovely children's sculptures such as Boy and Dog Garden Statue. Children's happiness can make people forget their troubles. When we see these sculptures, we seem to go back to childhood and see ourselves. If you are looking for high-quality children's sculptures, you can contact us and we will make it to your satisfaction.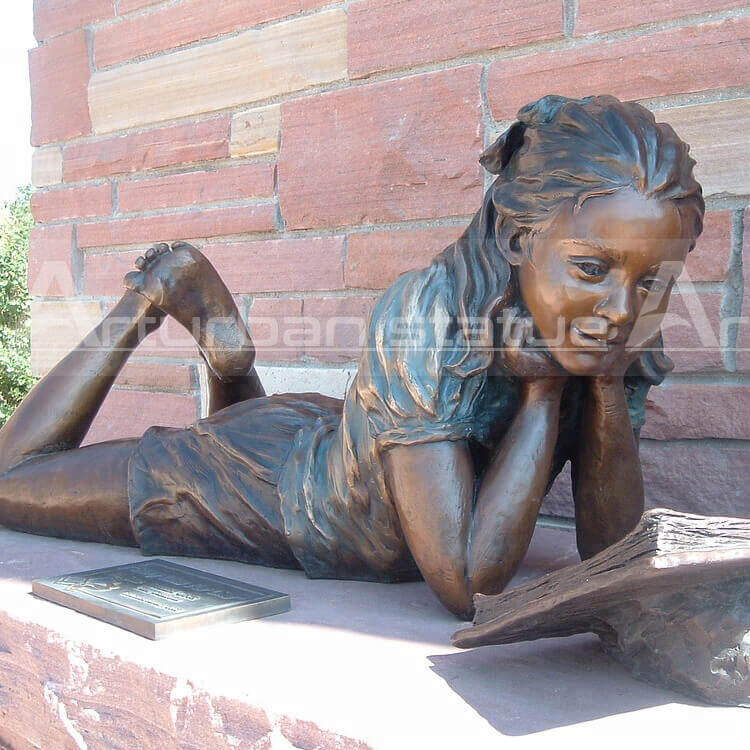 2.Production Proccess of Girl Reading Book Statue
1. Confirming the details drawing/ 3D mold/ Pictures with clients.
2. Making clay mold according to drawing/ client's photos/ 3D mold.
3. Lost-Wax casting bronze/brass statues.
4. Welding and Chasing.
5. Patina and wax surfance, take all different views pictures/ videos, show to clients.
6. Packing into wooden cases after clients are satisfied with sculptures.
Send us your requirements now, we will reply to your email within 24 hours