1.Introduction of geometric girl sculpture
The geometric girl sculpture is David Mesguich's commemorative sculpture "Lucie". It is an impressive work of art that blends
the subtleties of modernism and geometric form. This ten meter high stainless steel sculpture is based on the image of a little
girl who is dedicated to drawing a sun in the sky, a scene full of endless dreams and hope.
The decorative function of Garden Girl Sculpture is very eye-catching. It is not only a decoration, but also a meaningful monument.
The 'Lucie' sculpture conveys a message that encourages creativity and imagination, especially for children, as it motivates them to
pursue their dreams and express their unique ideas.
In terms of production advantages, stainless steel as a material has excellent durability and can withstand harsh weather conditions
and natural erosion, so this sculpture will be preserved in the urban landscape for a long time. The luster and reflectivity of stainless
steel enable sculptures to create completely different visual effects during the day and night, adding to the charm of the city.
In summary, David Mesguich's "Lucie" sculpture is a vibrant and hopeful work that holds significant artistic, aesthetic, and cultural
significance. Through its abstract appearance, decorative effect, and material selection, it brings a striking landmark to the city, inspiring
people to constantly pursue their dreams. This commemorative sculpture will continue to convey this message in the future, inspiring
people to bravely pursue their ideals and goals.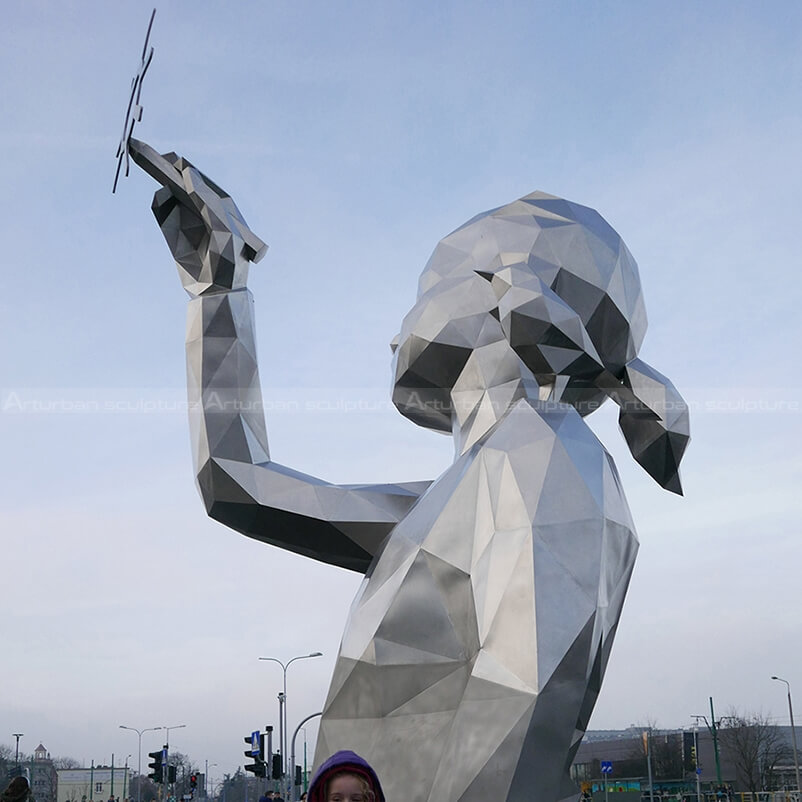 2. Production Process of geometric girl sculpture
Send us your requirements now, we will to your email within 24 hours.