1.Introduction of garden lion statue for sale
This is a garden lion statue for sale. Sitting on the marble foundation, it looks very majestic and domineering.
It looks at the distance with its head sideways, and roars loudly with its mouth open, making it full of majestic
feeling. The sense of muscle and strength is prominent. The overall majestic, the shape is more powerful, the
eyes are sharp and divine, giving people a sense of majesty and solemnity. It seems to be telling others that no
one can shake its kingship. Its majestic momentum makes people afraid, as if it would rush to the enemy at any
time. It has the mission of protecting its family. Its roar is to scare bad people and drive them away with its
momentum. It can also beautify the environment and add the wild beauty of nature to your environment.
This garden lion statue for sale was made by the traditional wax loss method by the Arturban Sculpture Foundry.
Through the exquisite artistic skills of the craftsmen, it has given new life to the Bronze Lion Statues Outdoor, retained
various details of the sculpture, and clearly displayed the shape of the lion and the texture of the strong muscles in a
more vivid image. Its structure and shape are simple and fluent, the classical metal color is with strong artistic sense.
It gives people a noble and elegant temperament, and we can appreciate its beauty for a long time.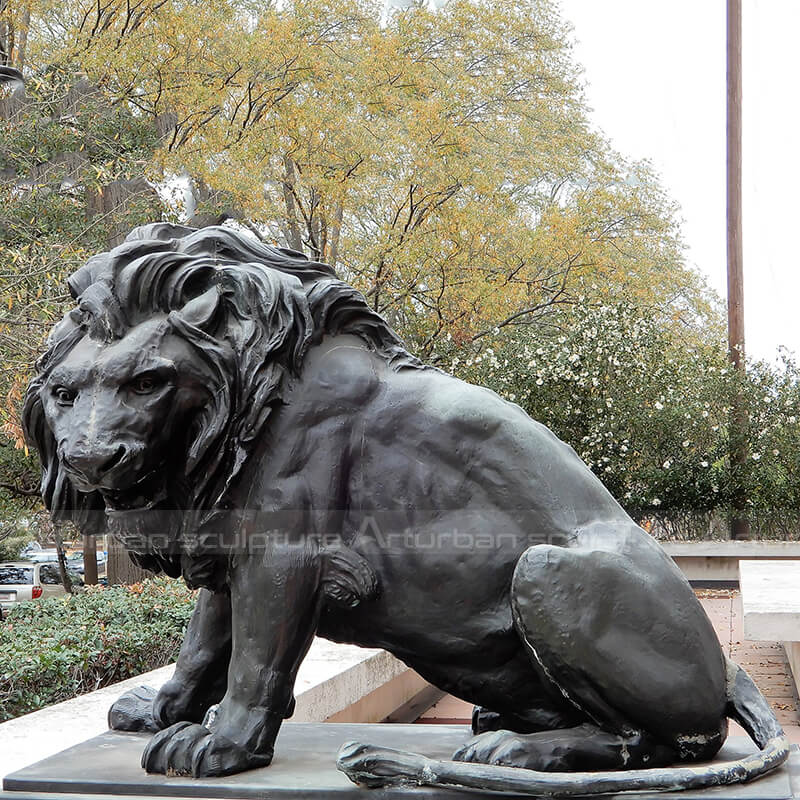 2.Production Proccess
1. Confirming the details drawing/ 3D mold/ Pictures with clients.
2. Making clay mold according to drawing/ client's photos/ 3D mold.
3. Lost-Wax casting bronze/brass statues.
4. Welding and Chasing.
5. Patina and wax surface, take all different views pictures/ videos, show to clients.
6. Packing into wooden cases after clients satisfied with sculptures.
Send us your requirements now, we will reply to your email within 24 hours