1.Introduction of funny golf statues
This funny golf statues is very interesting. It is the situation of three frogs with hats and smiling faces playing golf. It looks relaxing. At the foot of a frog was a ball. It raised its club and looked up into the distance. It seemed to be measuring the distance to control the strength. Its posture was very standard. The other frog crossed his legs, put one hand on golf club supporting on the ground, put the other hand in his pocket, and looked at the playing ball frog very leisurely. Behind them is a waiter with a number of 20 written on his chest as his waiter's number. It carries a golf club bag on its back, a pen and a book in its hand, looks at the distance and records, and is very conscientious.
This group of golf sculpture is very vivid. We use anthropomorphic design to show the scenes in our life with the actions of frogs, which not only adds interest to the sculpture, but also makes it more artistic. This sculpture is very relaxed and interesting both in action and image. As an outdoor decoration, you can not only relax your mood, but also add color and joy to your life. If you like golf sculpture, you can contact us.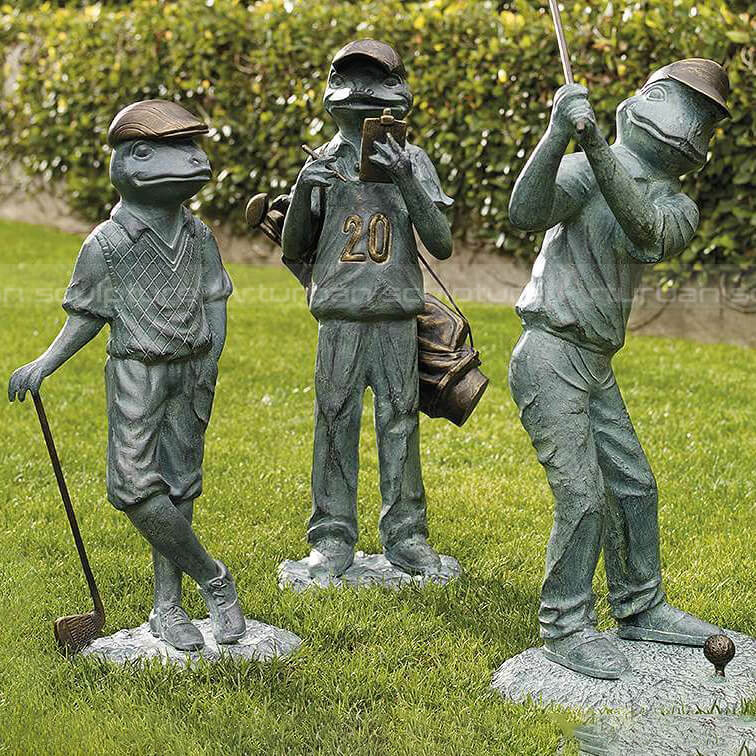 2.Production process of funny golf statues
1. Confirming the details drawing/ 3D mold/ Pictures with clients.
2. Making clay mold according to drawing/ client's photos/ 3D mold.
3. Lost-Wax casting bronze/brass statues.
4. Welding and Chasing.
5. Patina and wax surface, take all different views pictures/ videos, show to clients.
6. Packing into wooden cases after clients are satisfied with sculptures.
Send us your requirements now, we will reply to your email within 24 hours