1.Introduction of fishing boy garden statue
This is a fishing boy garden statue. The boy leaned forward, holding the fishing rod intently, as if
waiting for the fish to take the bait. He was barefoot and relaxed, as if completely immersed in the
joy of fishing. The details of this sculpture are beautifully crafted. The luster of bronze reflects the
texture of the boy's skin and clothing, and the details of the fishing rod are clearly visible. The entire
sculpture is lifelike, giving people a sense of the innocent childhood fun of children.
Bronze Fishing Boy Garden Sculpture can not only become beautiful decorations, but also convey a
special emotion. They can give people a relaxed feeling and help them alleviate the stress in daily life.
For families with children, such sculptures can become a good educational tool, stimulating their
curiosity and creativity.
Arturban is a company specializing in the production of bronze sculptures. Our advantage lies in our
rich experience and skills to create high-quality sculpture works. In the production process of bronze
children's sculptures, we use the most advanced technology and tools to create every detail to ensure
the sculpture quality. We also attach great importance to customer needs, so we will conduct in-depth
talking with customers to ensure that the sculpture can perfectly reflect their wishes and needs.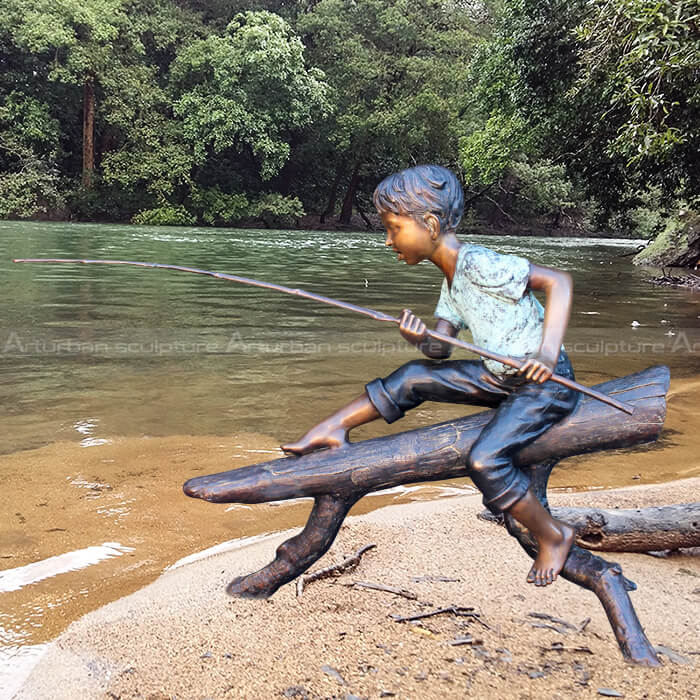 2.Production process of fishing boy garden statue
1. Confirming the details drawing/ 3D mold/ Pictures with clients.
2. Making clay mold according to drawing/ photos/ 3D mold.
3. Lost-Wax casting bronze/brass statues.
4. Welding and Chasing.
5. Patina and wax surface, take all different views pictures/ videos, show to clients.
6. Packing into wooden cases after clients satisfied with the works.
Send us your requirements now, we will reply to your email within 24 hours