1.Introduction of elephant water feature
Elephant water featureis a simulated bronze elephant sculpture. The exquisite elephant has two very sharp and slender tusks, which can give a fatal blow to the enemy at any time. The curved nose is very flexible, and the spray from its nose is very vivid. Its strong image is vividly displayed by two fan-shaped big ears and thick legs, as if a real elephant is playing with water. The perfect combination of this exquisite sculpture and the fountain has become the highlight of outdoor decoration. The decoration in your manor, garden, square, hotel gate and other occasions will be a very eye-catching focus.
This elephant fountain sculpture is made of high-quality bronze and adopts the lost wax casting process to capture the most detailed carving details. Every detail of it has been carefully carved. We can see clearly there are many folds and gullies on its surface. Not only that, the wrinkles,blood vessels and skin are also vividly depicted by our sculpture, so this statue is more like a real elephant standing there. A fine bronze sculpture can not only show your personality, but also integrate the details of exquisite works of art into your decoration. Moreover, the elephant fountain sculpture can not only let you enjoy the breath of nature, but also let you enjoy the wild beauty of elephants.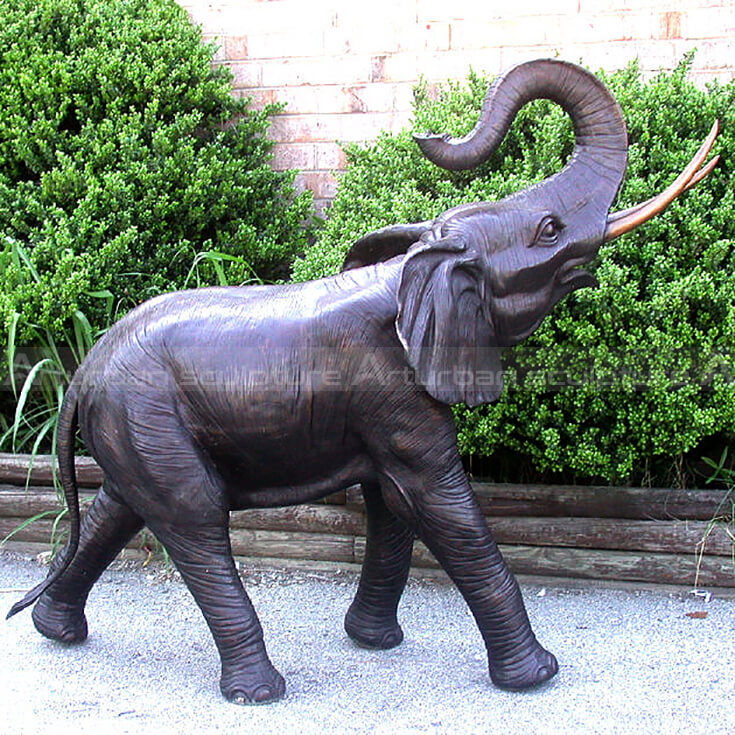 2.Production process of elephant water feature
1. Confirming the details drawing/ 3D mold/ Pictures with clients.
2. Making clay mold according to drawing/ client's photos/ 3D mold.
3. Lost-Wax casting bronze/brass statues.
4. Welding and Chasing.
5. Patina and wax surface, take all different views pictures/ videos, show to clients.
6. Packing into wooden cases after clients satisfied with sculptures.
Send us your requirements now, we will reply to your email within 24 hours