1.Introduction of eagle sculpture for garden
Please see this eagle sculpture for garden. The eagle is an awesome animal. The eagle has the right to rule the sky. In people's hearts, it has always been synonymous with the strong. In the sky, it can be called overlord. Sharp eyes, strong wings and sharp claws are its momentum and strength to soar between sky and earth. It has the king's demeanor of being arrogant and domineering. It is this strong mentality that makes it the overlord in the sky, and no one dares to challenge its authority.
Our sculpture is a sculpture in which the eagle spreads its wings and soars in the sky. Its attitude of spreading its wings and diving makes us feel the strength and ferocity of the eagle. It also gives a powerful blow to our hearts and makes us understand that as long as we have strong power, we can soar in the sky, break through shackles and get freedom. We also have many Eagle sculptures for you to choose, like Decoration Eagle Statue, all of which are high-quality products. As a decoration, it is a good choice whether in the courtyard or in the park. Bronze material allows you to enjoy the beauty of sculpture for a long time.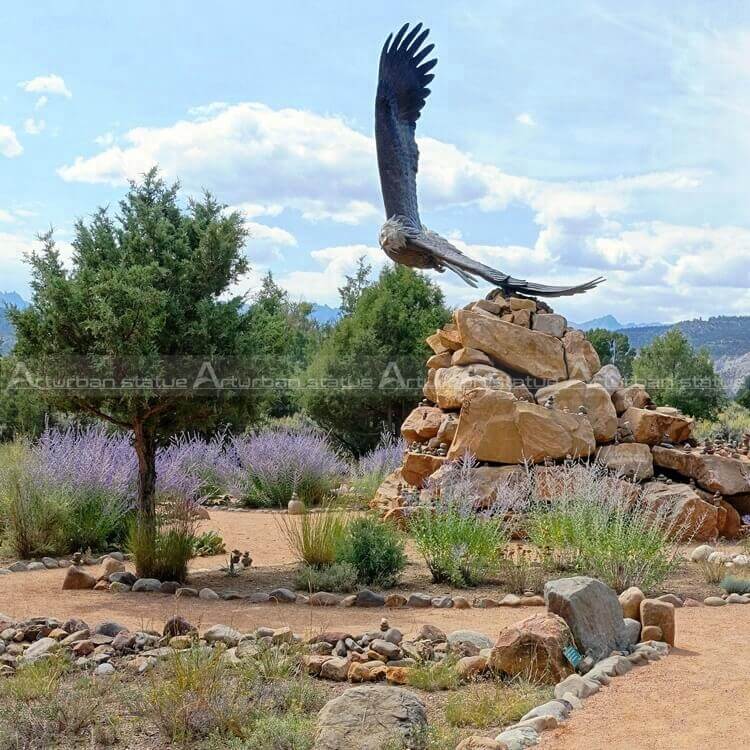 2. Project cases of eagle sculpture
3.Production Process of eagle sculpture for garden
1. Confirming the details drawing/ 3D mold/ Pictures with clients.
2. Making clay mold according to drawing/ client's photos/ 3D mold.
3. Lost-Wax casting bronze/brass statues.
4. Welding and Chasing.
5. Patina and wax surface, take all different views pictures/ videos, show to clients.
6. Packing into wooden cases after clients are satisfied with sculptures.
Send us your requirements now, we will reply to your email within 24 hours