1.Introduction of donkey statue for garden
This bronze donkey statue for garden is a lifelike scene. The donkey stood there, elegantly swinging its tail, as if enjoying a peaceful time.
Its posture appears free and easy, with a steady and harmonious body. The details of the fur are lifelike, as if one can touch its softness.
The donkey's eyes were bright and gentle, as if gazing at the world around him. The artist of the sculpture cleverly captured the vivid
characteristics of the donkey, making this work more vibrant and full of vitality.
This sculpture has a great decorative effect in the garden. Whether placed next to a flower bed, on a lawn, or in a corner of a garden, it
can add vitality and vitality to the entire environment. In the garden, this donkey seems to have become a lovely gardening companion,
accompanying the flowers and plants to appreciate the beauty of nature.
This donkey sculpture uses high-quality materials to ensure its durability and stability. The exquisite carving process makes every part
come to life, from the donkey's fur to the expression of the eyes, all of which are very realistic. Moreover, this sculpture also adopts
waterproof and sunscreen treatment, ensuring that it can maintain good condition for a long time in outdoor environments.
Overall, donkey sculpture is not only a decoration, but also a love and longing for nature and life. It brings people not only visual pleasure,
but also a good wish for nature and a peaceful life. Whether in the garden or courtyard, this sculpture can become a striking focal point,
allowing people to constantly feel the beauty of nature.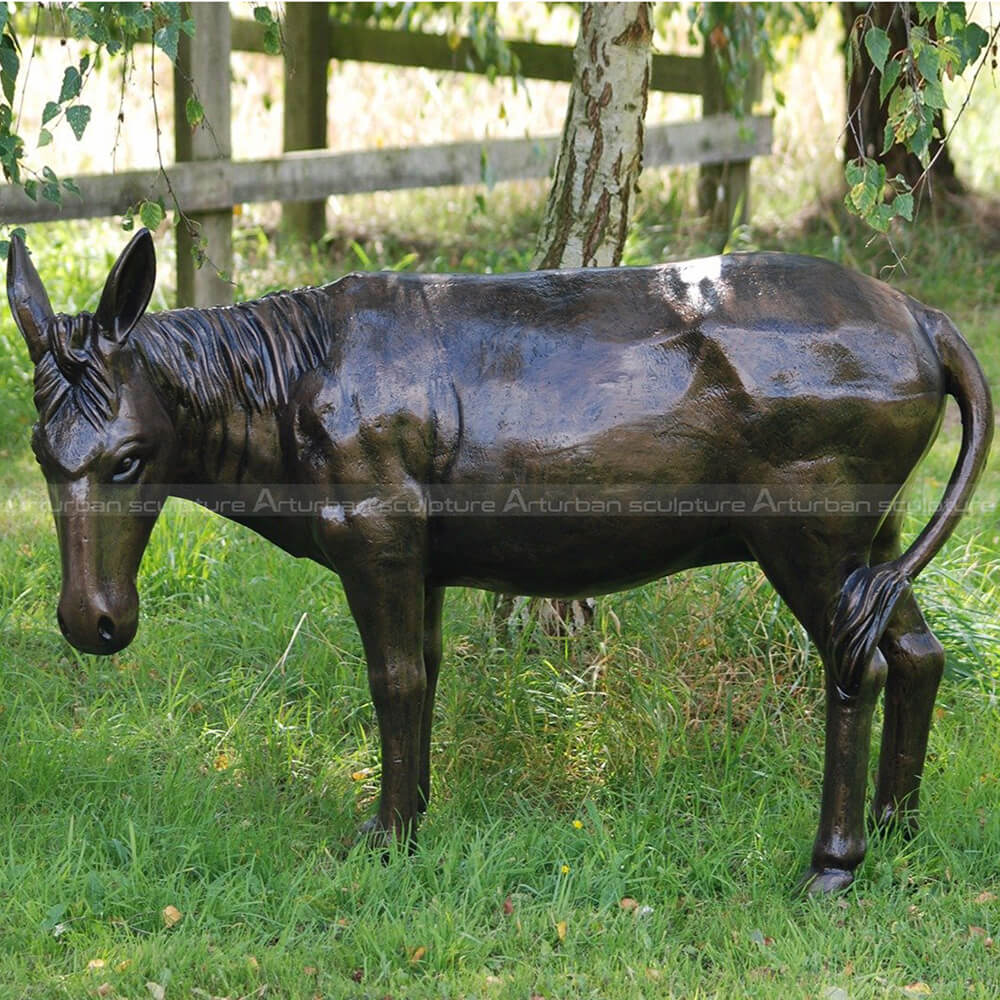 2.Production Process of donkey statue for garden
1. Confirming the details drawing/ 3D mold/ Pictures with clients.
2. Making clay mold according to drawing/ client's photos/ 3D mold.
3. Lost-Wax casting bronze/brass statues.
4. Welding and Chasing.
5. Patina and wax surface, take all different views pictures/ videos, show to clients.
6. Packing into wooden cases after clients satisfied with sculptures.
Send us your requirements now, we will reply to your email within 24 hours