1.Introduction of dolphin statue fountain
This dolphin statue fountain is an exquisite sculpture of two dolphin fountains. Dolphins are very popular marine animals. In the aquarium, the circus often sees them. They will make the audience laugh with all kinds of interesting performances. At the same time, its mouth opens like a smile, and it is affectionately turned into a smiling angel by people. Dolphin fountain sculpture is also a very common art sculpture in our life. Their jumping action, clear water flow and spray form a beautiful picture, as if they were alive, swimming happily in the water. Put it in the garden, square, garden, courtyard and other outdoor places, it will become a source of joy, bring people joy and let people relax.
We have a professional sculpture team, and we are committed to producing high-quality sculpture works for each customer, so we have adopted the wax loss casting method with complex processes but can show the most finest details, and the best quality materials, so that our large dolphin sculptures not only has a realistic shape, but also can be used as an outdoor garden, square and other places for decoration for a long time. The unique artistic shape makes pedestrians stop,appreciate its beauty. Our dolphin statue fountain is popular with many people. If you need to customize, you can contact us for more detailed sculpture information.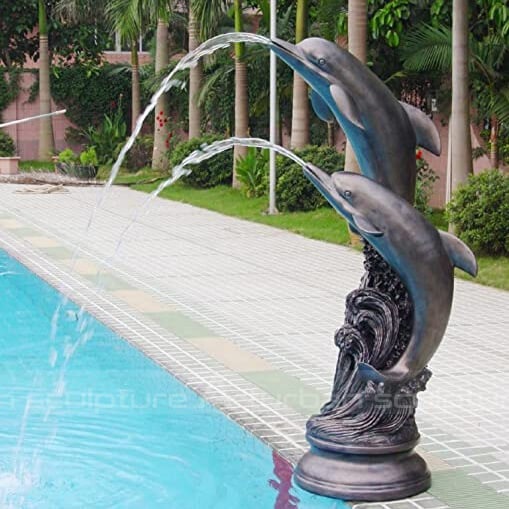 2.Production Proccess
1. Confirming the details drawing/ 3D mold/ Pictures with clients.
2. Making clay mold according to drawing/ client's photos/ 3D mold.
3. Lost-Wax casting bronze/brass statues.
4. Welding and Chasing.
5. Patina and wax surface, take all different views pictures/ videos, show to clients.
6. Packing into wooden cases after clients are satisfied with sculptures.
Send us your requirements now, we will reply to your email within 24 hours